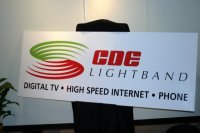 At first glance it a was step back in time; vintage cars including a bright blue Camaro just begging to be taken for a ride, and members of the Roxy Theater's production of Grease holding open doors at the end of a long red carpet.
In reality, there is a certain synchronicity to merging images of an era that saw the origination of television with the reality of fiber-optics "lightning express" [in this case, Lightband] into the future of telecommunications. It is the kind of creative, futuristic thinking that fueled 1950s imaginations in Disney's Tomorrowland, that erupted and amazed in the futuristic exhibits at World Fairs. Many of us are old enough to have read about "the future" of technology in books by authors like Ray Bradbury or Isaac Asimov. Yesterday's imaginings turned reality today.
Tuesday evening, the Clarksville Department of Electricity stepped into the future with the unveiling of their new logo, sign, branding and price information for their new Fiber to the Home (FTTH) services that place Clarksville, Tennessee on the cutting edge — nationwide. CDE Lightband is the culmination of years of planning and design, an informational campaign, and legalities including an endorsement by the voters of Clarksville on the referendum question that allowed this far-reaching development to occur. «Read the rest of this article»
Though it seems hard to believe, the 21st century opened with a series of book burnings, with the most obvious target being the Harry Potter books by J.K. Rowlings. The burnings began with Harry Potter and a raging fire, but moved into subtler forms in the shape of governmental dousing not just of the flames but the books — any books –that fuel individuality, that encourage opposing points of views, that question the authority and 'the way things are." To those not sleeping at the wheel of their rights, it's scary out there. Intellectual caffeine required to stay alert to the threat.
"On Sunday evening, members of the Harvest Assembly of God Church in Penn Township sing songs as they burn books, videos and CDs that they have judged offensive to their God."

—Butler Eagle, Pittsburg PA March 26, 2001

"Two groups of people argued over the definition of evil Thursday night in Kennedy Park. One group said it was embodied in the messages contained in the Harry Potter novels. The second group countered that evil lives in those who want to ban books and censor what men, women and children can read."

— Jesus Party, Opposition Square Off over Potter Books, 11/16/01
I have to come up on the side of that second group, and move on to ask them what exactly they are afraid of? Are they so insecure in their beliefs and their reality that that they have to persecute — ideas? Imagination? Are "they" afraid that someone may have a better idea? «Read the rest of this article»