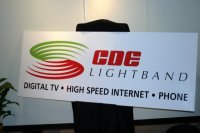 At first glance it a was step back in time; vintage cars including a bright blue Camaro just begging to be taken for a ride, and members of the Roxy Theater's production of Grease holding open doors at the end of a long red carpet.
In reality, there is a certain synchronicity to merging images of an era that saw the origination of television with the reality of fiber-optics "lightning express" [in this case, Lightband] into the future of telecommunications. It is the kind of creative, futuristic thinking that fueled 1950s imaginations in Disney's Tomorrowland, that erupted and amazed in the futuristic exhibits at World Fairs. Many of us are old enough to have read about "the future" of technology in books by authors like Ray Bradbury or Isaac Asimov. Yesterday's imaginings turned reality today.
Tuesday evening, the Clarksville Department of Electricity stepped into the future with the unveiling of their new logo, sign, branding and price information for their new Fiber to the Home (FTTH) services that place Clarksville, Tennessee on the cutting edge — nationwide. CDE Lightband is the culmination of years of planning and design, an informational campaign, and legalities including an endorsement by the voters of Clarksville on the referendum question that allowed this far-reaching development to occur.
CDE officials screened a brief video on state of the art high definition televisions that opened with images of cave art, moving quickly forward to those cumbersome console TV sets and the screens with rounded corners, on to early computers with a single "brain" filling an entire room, culminating with today's pinpoint size fiber optic lines and microchips.
CDE President Kenneth Spradlin said that the CDE was founded 70 years ago based on  "consumer dissatisfaction with what was and a need to look to the future." He added that a similar displeasure with existing services combined with the growing needs of a community poised for development and already experiencing massive growth made this project a idea whose time had come.
This is the largest deployment of fiber optics in America, according to Cornerstone Information Systems, another of the Project Partners.
"There are few projects anywhere [in America] as ambitious as this," said Cornerstone's David Smith. And with those words, a diverse group of city officials, community leaders and businesspeople toured the new facility on Madison Street, eyeing banks of towers, miles of wiring, office space, and potential studio space (not on the plans yet but a distinct possibility) large enough for the inevitable growth this service will experience.
Stephen Hopkins, Vice-President of Telecommunications, CDE Project Partners, said the first customers would be able to access this new network in March, 2008.
The design, construction and implementation of the city-wide project continues to involve companies such as Atlantic Engineering, TCC, World Wide Packet, ETI, Kassena, and Cornerstone Information Systems.
As for the service packages, more details will be coming soon but  judging by preliminary numbers Charter customers would see a savings of around $40 per month for their combined phone, internet, and cable TV service.
When will you be able to get the new CDE Lightband services?
Rotary Park Service Area
Rotary Park to Exit 11
Construction Completion: January 2008
Service Available: March 2008
Barkers Mill Service Area
Exit 1 to around Outlaw Field
Construction Completion: April 2008
Service Available: June 2008
Dunbar Cave Service Area
Exit 8 to Needmore to the Red River
Construction Completion: March 2008
Service Available: May 2008
New Providence Service Area
Red River to 374 and 101st includes Peachers Mill and Lafayette Roads
Construction Completion: April 2008
Service Available: June 2008
Primary Service Area (Downtown)
Downtown and APSU areas
Construction Completion: April 2008
Service Available: June 2008
Ladd Service Area
Fort Campbell BLVD north of 101st Division Parkway to Tiny Town Road
Construction Completion: May 2008
Service Available: July 2008
District Service Area
South Clarksville, roughly Madison to Highway 13 to 41A Bypass.
Construction Completion: August 2008
Service Available: October 2008
St. Bethlehem Service Area
101st Division Parkway to North of 1-24 around exit 4
Construction Completion: May 2008
Service Available: July 2008
East Service Area
Hospital Area to Red River and 374
Construction Completion: October 2008
Service Available: December 2008
Edgeton Service Area
Fort Campbell BLVD North of Tiny Town Road
Construction Completion: May 2008
Service Available: July 2008
The standard disclaimers also apply here…
Construction Dates and service availability time-lines are subject to change.
To confirm what area you are in check the map (PDF)
Clarksville Online's Editor Christine Piesyk contributed to this piece also.