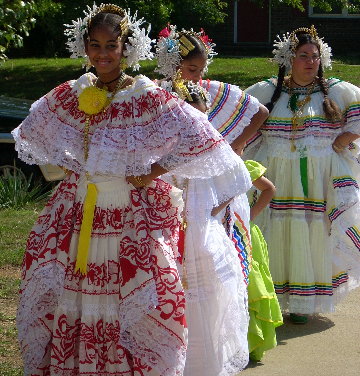 An explosion of sight, sound and color is coming to the Clarksville Fairgrounds in the form of a daylong Latina celebration on Saturday, October 13. Festivities include performances by the colorful Clarksville-based Ballet Folklorico Viva Panama.
Cuarto Festival Hispano De Clarksville (4th Hispanic Festival of Clarksville), sponsored by BNM Productions, will overlay the sound of salsa and merengue in a full day of festivities, music, food and fun for adults and children alike.
The Panaminian heritage is included in this festival in the form of the Clarksville-based Folklorico dance company, which presents a celebration of Panamanian dance and culture. The company is the creation of Vicki Schuler, a professional dancer now teaching a new generation of dancers from her home in North Clarksville. «Read the rest of this article»
Registrations are still being accepted for the 2007 Sango Scamper Road Race to be held on Saturday, October 27. Proceeds from the race, sponsored by the Sango Methodist Church, will benefit the Mongtomery County Habitat for Humanity program.
The race will cover two TAC certified course: 10K and 5K, in addition to a one mile scenic stroll. All events begin at the Church at 3301 Sango Road, pass through a mix of residential and country roads, and will have Marshalls stationed along the course to assist runners. «Read the rest of this article»
On occasion, I allow my mind to meander down the dark and gloomy path of grief with thoughts of events or experiences that are yet to be. Sometimes we are victims of anticipatory grief, as it is called by professional in psychology.
Anticipatory grief can be healthy, depending on its duration and our response to it. To think about the inevitable, such as our own demise, though sad, can motivate us to positive action, such as making a will, establishing a trust, and keeping our beneficiaries updated on our finances at every level.
Cassie, our beloved twenty-pound Chinese Pug, is more than a pet; she is a family member. Now nearly15-years-old, she has been in our care for the past ten years. She is a delightful companion and affectionate even to strangers. If animals can love, she loves children and adults alike. Singing her accolades is easy, and she is ideal for us.
To further her quality of life, she receives frequent health care from her vet, Dr. Winn; a nutrional diet, and a monthly grooming at PetSmart. «Read the rest of this article»