On occasion, I allow my mind to meander down the dark and gloomy path of grief with thoughts of events or experiences that are yet to be. Sometimes we are victims of anticipatory grief, as it is called by professional in psychology.
Anticipatory grief can be healthy, depending on its duration and our response to it. To think about the inevitable, such as our own demise, though sad, can motivate us to positive action, such as making a will, establishing a trust, and keeping our beneficiaries updated on our finances at every level.
Cassie, our beloved twenty-pound Chinese Pug, is more than a pet; she is a family member. Now nearly15-years-old, she has been in our care for the past ten years. She is a delightful companion and affectionate even to strangers. If animals can love, she loves children and adults alike. Singing her accolades is easy, and she is ideal for us.
To further her quality of life, she receives frequent health care from her vet, Dr. Winn; a nutrional diet, and a monthly grooming at PetSmart.
At her age, I recognize her days, her time with us are edging close; weeks of listening to her struggle and sonorous breathing are limited. Even now, as I write this, the tears surface and my throat tightens, all in anticipatory grief. It will be a crushing blow to our lives when she is cremated. her physical departure will be heart-wrenching. I expect that, besides grief, there will be guilt for me to suffer. It's a natural component of the grief cycle.
Other events too will produce grief for all of us in our own ways, for our own reasons. . As a precious friend, Charles Marshall, affectionately states in Mullings and Musings:
"Grief has its own peculiar form for each of us; we grieve for our loss, our shattered relationaship, our 'might have beens,' our broken bodies, our broken minds, our children's tragedies; add to all this personal grief the hunger, the wars, and the hatreds of the world."
These crushing tragedies have an indominable consequence on us and will immobilize and incapacitate us for a period of time. They will tumble us into bitterness and spiritual darkness. Our prayers are immersed in uncertainty in such troubled and fatiguing times.
My achieving and adventurous 12-year-old grandson, Brett, has enriched my life with fledgling hobby of actor in live theater in Evansville, Indiana. His role in Les Miserables motivated me to research this profound production and introduced me to the wonders — mentally and spiritually — of this famous book-movie-play.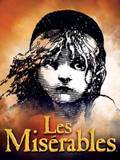 In Les Miserables, grief comes to many of the major characters in some form. In order to help all of us to understand and even to take advantage of such times, the author, Victor Hugo, writes:
"Great grief is a divine and terrible radiance which transfigures the wretched."
I believe he is announcing, for our assurance, that grief can be good or bad, or good and bad.
There is a grievous atmospehe in our community with the deployment of our troops in Iraq and Afghanistan. The tears still flow down the cheeks of spouses and children that said this sad farewell — again. As I departed for each of my two tours in Vietnam and combat, I still vividly remember that crushing grief as I boarded the plane fromKansas City and was emotionally battered enough that i couldn't take a last glance at my wife and parents-in-law.
We can assist these families in coping with this deep-seated well of grief that has no bottom at present. Through acts of friendship, neighborliness, and caring we precipitate the healing through our acts and deeds of kindness. Our deeds are therapeutic. Even the menial tasks of cleaning the gutters on my neighbor's home in the absence of a spouse will strengthen both of us.
We as spiritual beings have an innate drive to a comforting presence. As an ancient writer said for our comfort and as a challenge:
"There is a season and time for every purpose under heaven…A time to heal, a time to build up…A time to weep and a time to laugh…A time to gain and a time to lose. "
This ancient sage is assuring us that our pain is transitory.
We are challenged to alleviate grief. Often as we do an act of kindness for a grieving family of the deployed, report the act on Clarksville Online. You need not say your name, and may use just initials. Speak up, and let the families of our troops know that we, the people of Clarksville, care. Deeply.
Author's Note: For a spiritual lift, acquire Mullings and Musings by our own Charlotte Marshall. Copies are available at Trinity Episcopal Church for $10. Consider giving a copy to a grieving neighbor.