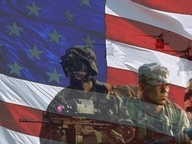 I read a recent piece by Clarksville Online author Tom Paine which supports our soldiers overseas (as we all do) but which also suggests that leadership for those soldiers at the highest levels today is faulty, less than inspirational. It's not the soldiers, it's the policies (and national leadership) that are the problem.
In talking about the PBS series The War, the author says those World War II soldiers didn't crab and complain and simply did their duty with honor and integrity, as our present soldiers are doing. In fact, they probably complained about heat and cold, rain and mud, and war in general, but they still held fast to their mission.
The difference between the two generations, as I see it, is that in that "great war" they were, first and foremost, fighting the right enemy in the right places for the right reasons. That greatest generation had leaders with integrity, leaders who had the ability to inspire, motivate and fuel cohesiveness within the country without the intrusiveness of a 'sound bite press' in need of shock value for the evening news, without the petty bickering, political sniping, corruption and intense jockeying for position that marks the current war. The greatest generation had some truly exceptional LEADERS and a common focus. A goal, and a plan to reach it that people could believe in. A plan for 'aftercare' that people could believe in. People will rally around what they believe in. «Read the rest of this article»
Pulling a story from classic literature, the Roxy Regional Theater will open The Picture of Dorian Gray on Wednesday, October 12. The production will run through October 27. It has been adapted from the Oscar Wilde novel for this stage by John McDonald.
Written originally as a story by Oscar Wilde, it was first published as a feature in Lippincott's Monthly Magazine in 1890 and subsequently published as a novel in 1891.
The story of Dorian Gray is the story of a society figure, a young man whose portrait is painted by artist Basil Hallward, a man obsessed with his subject. Hallward sees his subject as an inspiration for a new mode of art. Gray then meets Lord Henry Wotton, a friend of the artist, and becomes enthralled with Wotton's hedonistic life view, setting the stage of a quest for eternal youth and beauty.
As Dorian cries out his desire to be perennially young, his wish is granted and his life spirals into a whorl of debauchery, self-indulgence and a pursuit of all things youthful.
It is the portrait that ages, becoming scarred with each of Dorian's depraved acts. Hidden in the recesses of the attic, the portrait ages, is savaged to its very soul with every sin committed. «Read the rest of this article»