'On the Road in America' is my 'occasional column' highlighting points and people of interest I encounter on my travels.
Shelburne Falls is one of the magical New England villages you might stumble upon while On the Road in America. Nestled in the Berkshires, a few miles west of the Connecticut River and a few hundred yards off the Mohawk Trail in Western Massachusetts, Shelburne Falls and its sister community, Buckland, share a bridge over the Deerfield River, a spectacular waterfall, ancient geological formations and a unique view of Main Street development linked to its history and natural beauty.
Two remarkable destinations, one six million years old, the other of the 20th century, share top billing here: the Glacial Potholes and the Bridge of Flowers situated within a few hundred feet of each other.
In the springtime, after hefty winter snowmelt racing downriver from the north (great whitewater here), Salmon Falls on the Deerfield River swells and the torrent of ice-chilled water spills over a large V-shaped dam, tumbling over boulders with a stories-high mist and a deafening, thundering roar. At times the height of water cresting is five or more feet over the entire length of the dam. From a viewing deck at Mole Hollow Candle Company on Deerfield Avenue, downstream from old factories and Victorian houses turned galleries, studios and shops, visitors watch in awe as the water does whatever it wants to do as it devours this remnant of an ice age or two.
The hidden story of this landscape will be revealed with the heat of summer, as the flooding snowmelt dissipates and the geology is revealed. It's not a high tech playscape; it's better than that.
The potholes are a geologic quirk, the end result of a a few small stones being whipped 'round and 'round by the intense river flows, slowly, over millenia, unable to wash up and out, opting instead for that path of least resistance. Thus, scratching, scraping, scouring relentless rounds, the first dip, the first shallow bowl is created. Then a tad wider, deeper.
Some fifty potholes are carved into the rocks, some as small as six inches wide, the largest measuring a staggering 39 symmetrical feet across. A few have chiseled deeply enough over time to break through and create stone tunnels through which cold river water and daring swimmers slid in the days before the site was closed to an overflowing number of swimmers attracted by an assortment of cooling pools and varying flows of waterfalls, large and small, spilling through the site. As these rocks of ages past wore down, they also revealed stunning striations of shape, color and texture well worth photographing.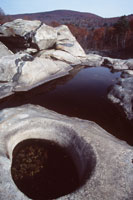 The best part about the potholes is that they are free. Yep. Just show up and enjoy. Climb over the rocks. Stand in the basin of a summer-dried hole and feel the gravel beneath your toes. Have someone take your picture in a six-million year old production of Mother Earth.
Water levels vary based on weather conditions: ice formations in winter, high snowmelt in spring, low water in summer, who knows in autumn, and all bets off if a stray hurricane decides to drop water over the Berkshires and Western Massachusetts. In autumn, as the foliage rises to its brilliant pitch of red, orange and gold, the hills surround the potholes are ablaze in color, seeming to burn brighter with every view.
Overlooking the dam is North River Glass, which operates with its bay doors wide open until the cold winter weather hits. The fires are stoked and the glassblowers work their art as visitors stroll the work areas and a shop filled exceptional examples of hand blown glass.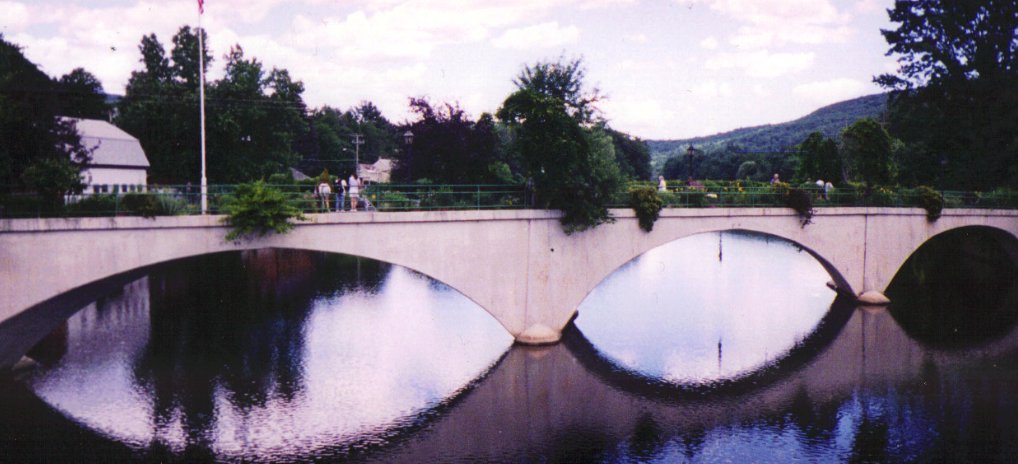 Just upstream from the Potholes is the 400-foot long Bridge of Flowers, which draws over 24,000 visitors a year. The bridge, an arched trolley bridge at one point in history, a rundown bit of history rendered obsolete, past its prime. Rather than tear it down, or pull it from its pilings, creative thinkers turned it into a work off art, this time with human hands.
The Shelburne Falls Women's Club worked its magic, collecting bits and pieces of the earth's most beautiful flowers, vines, shrubs and decorative plants — some 500 varieties and counting. The trackbed was topsoiled, mulch and otherwise brought to the right depth of richness. The garden shape- shifts with the season, from the first snowdrops and spring crocus to the lush overgrowth of summer flowers. Trumpet vines and wisteria curl over its fencing, and roses scent the air. People come to walk, watch, sit, ponder and savor the beauty. It's a different garden every month, a walk for all seasons. This too is a "freebie," though donations to support this labor of love are always welcomed.
On Mohawk Trail, a few miles east of Shelburne Falls, is a bit of Americana: Gould's Maple Sugar House. It's a family-owned seasonal business, dependent on the warm days and cold nights of late winter/almost spring for the maple sap to course through the trees. The gathered sap is channeled into an Arch and boiled down [40 gallons of sap makes one gallon of syrup] over a wood fire. Cord upon cord of firewood is burned, and steam fogs the back room, where is always shirt sleeve season in boiling season.
Gould's has a gift shop where syrup, maple candy and other products can be bought. But best of all is the restaurant, with its long tables, hard wood benches, and the lightest, fluffiest, most mouthwatering pancakes in the world. Okay, I'm prejudiced, but my family, friends and I have been dining here since the 1960s; if it wasn't the best, we wouldn't be back. It's a place "where everybody nows your name" from season to season.
Topping the pancakes is the season's best light Grade A golden syrup, which can also be added to blueberry pancakes (with local berries) and corn fritters crisped outside and sweet and fluffy inside. To cut the sweetness of the syrup, dishes of homemade sour pickles are served, though mine are usually devoured long before my meal ever gets to the table. The restaurant is open a mere eight weeks or in spring, and maybe six to eight weeks in the fall for foliage season. On weekends, there's a waiting list and line out the door. Nobody leaves.
I am always impressed when communities can band together to capitalize on the assets they have while working to preserve the integrity and cultural history of their little piece of this earth.