For the 8th year running, Friends of Dunbar Cave brings Haunting History right before Halloween. Visitors can see exciting and fun skits performed inside Dunbar Cave on Friday, October 26 and Saturday, October 27 between 5:00 p.m. and 8:00 p.m.
The $5 per person entry fee goes toward maintaining, preserving and promoting Dunbar Cave State Natural Area. Parking is free.
At different "stages" inside the cave, talented young performers from the Roxy Regional School of the Arts, directed by Roxy regional Theater Stage Manager Ellie Ellis, will presents skits. These historically based vignettes won't scare you but while being entertained, will offer information about bats and other critters, the haunting history of the cave, and Native American art in the cave.
No reservation is needed. Guided tours leave the Visitor's Center every 15-20 minutes. «Read the rest of this article»
"…dedicated to the best possible response to all emergency calls in the city of Clarksville. We strive to provide top-flight customer service to all aspects of our mission through our fire suppression activities, medical assist responses, daily and annual training, fire prevention inspections and public fire education programs, fire investigations, safety practices, and vehicle maintenance procedures."
— Clarksville Fire Rescue

Debra had allergies. To everything. The list of foods she could eat was a single page. Two brief columns of edibles that would not kill her. She carried a stash of epi-pens — in the kitchen, in the bedroom, in the car. Her reactions happened fast. Shortness of breath, then unconsciousness. On one hair-rising night, a night when I just stopped by for a moment and found her door open, her beloved house cats loose in the hall and her body on the floor gasping for air, though I didn't know she was a step away from death. I jabbed her with an epi-pen even as I dialed 9-1-1, which dispatched a crew from a point just a minute away. Four days later Debra was released from the hospital, until her next crisis. According to reports, her conditions were "allergic reaction" and "shortness of breath." According to the Emergency Room doctors, she was lucky to have survived at all.
Who says shortness of breath or an allergic reaction are not a medical emergency worthy of the fastest response, including response by Clarksville Fire and Rescue? Or that it can wait for a county service to respond? The rapid response of a neighborhood fire and rescue team saved Debra's life more than once.
Strokes can paralyze, kill, and result in brain damage; early response to and treatment for stroke is critical. Minutes make a difference. «Read the rest of this article»
In 1997, I was in a bed in Cooley-Dickinson Hospital in the northeast, virtually immobilized from the shoulders down, unable to move, shrug, shift, and sometimes breathe without pain piercing enough to make me black out. I could think, talk, and see three of everything from the painkillers I was told would kill the stabbing pain. They didn't work.
My family lived 1400 miles away in Tennessee, and my mom was in the first stages of Alzheimer's. I was alone, but for a few friends who tried to visit me, a county away, when they were not working. I was just far enough away to be inconvenient and difficult to get to.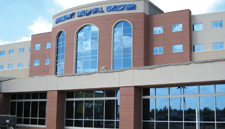 It was the kindness of people just like Ella Mae Arnold, a "fired" Gateway Hospital employee of 30 years standing, who made a difference, kept me sane. Ella Mae Arnold, the face of Gateway's front desk services, having toured the new Gateway Hospital (at left) and viewing the area in which she expected to work, was fired, a move that has left her distraught, her world turned topsy-turvy. Ella Mae was a breathe of humanity, someone real to connect with, even for a moment, when events unfold that are frightening, foreign, and overwhelming. «Read the rest of this article»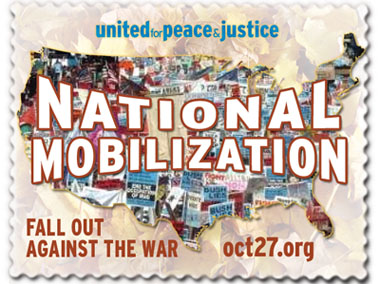 On October 27th, First Tennessee Progressives is hosting one of ten regional peace rallies around the United States being supported by the nation's largest national peace coalition, United for Peace and Justice. UFPJ is sponsoring Oct. 27 events in southeastern United States and is fully committed to supporting the Jonesborough, TN, anti-depleted uranium munitions action, according to Georgette Friday, UFPJ national staff person helping coordinate the southern strategies.
The UFPJ support helps put an additional national spotlight on what many consider the Agent Orange of this generation of wars, with depleted uranium munitions used in Iraq and the Gulf region, in the Balkans during the Clinton administration, likely in Afghanistan, and possibly in Lebanon. The munitions have been widely tested throughout the U.S. mainland, in Hawaii, and in the Puerto Rican island of Vieques as well, leaving radioactive and toxic contamination in all testing and manufacturing regions, with little cleanup effort underway except in a couple of areas identified as Superfund sites.
Linda Modica, lead Tennessee coordinator, Angela Helwig of Georgia Peace & Justice and Chris Lugo of the Nashville Peace Coalition outlined what plans have been put in place thus far, including a rally in downtown Jonesborough, a march to and musical presence at Aerojet Ordnance – remaining U.S.producer of DU weapons cores, music and speakers in Jonesborough itself, and efforts to mobilize support. «Read the rest of this article»