With the holiday and gift-giving season quickly approaching, it is time to start thinking about gifts for the coffee lover in your life. How about a gift basket filled with delightful coffee notions and potions? You can shop online or go to your favorite coffee shop and buy a pre-packaged gift basket. However, putting together a coffee gift basket is fun and easy, and it has a nice personal touch.
Start by selecting a container in which to put your items. You might choose a wicker basket, a keepsake tin, or a nice gift bag. You can even decorate a shoe box and make it really special. Line the bottom of the container with a cloth liner or tissue paper before you start. A decorative dish towel is a great choice because it can be used later in the kitchen.
Next, you will want to consider the recipient and the items he or she might enjoy. Something especially good this time of year is the seasonal flavored coffees such as pumpkin spice, apple jack, almond, butter pecan or eggnog. These are more memorable and festive than non-flavored coffee. You might include several small packs of gourmet flavors.
Unless you know the person owns a coffee grinder, you may want to purchase ground coffee so the recipient is sure to brew your gift. You could include a small bean grinder in the gift basket. They come in a variety of price ranges and may be purchased online.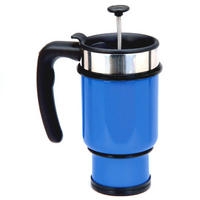 Mugs are always a great item in a basket. Look for a mug that meets the lifestyle of the person you are giving the gift too. Porcelain mugs are great for people who consume their coffee at home, around the fire, or like to keep a mug on their desk at work. When looking for a travel mug, find one that fits in the cup holder of the car. and make sure it has a no-drip type of lid. Look for a mug that is easy to clean and is dishwasher safe. Also, if the person is known to drop things (as many of us do), get a steel mug that can take abuse.
Home baked goods are a sure way to please the gift basket crowd. If you don't enjoy cooking, you can purchase pre-packaged coffee cakes, Biscotti, or cookies, or include an easy-to-bake packaged cookie or muffin mix as another option. You might want to add some gourmet candy to the basket. Chocolate is always good with coffee, and chocolate-covered coffee beans are an excellent choice. Flavored syrups, which come in small bottles, can be added, along with flavored creamers, cocoa mixes, or raw sugar to top it off. If your coffee lover shares their life with a pet, you could include a hand-decorated dog bowl, yummy treats or a toy. Little things, the attention to detail, are what make the basket special, so be creative!
The perfect coffee gift basket might contain:
½ pound of fresh roasted pumpkin spice or hazelnut coffee
1 colorful ceramic mug
3 ea Ghirardelli caramel, mint, and chocolate squares
2 hazelnut Biscotti
Small bag of chocolate-covered coffee beans
Once you have all your items arranged in the container, you can keep it altogether with a clear wrap or in a decorative bag. Top it off with a handmade gift tag or greeting card and you have a great, inexpensive and personal gift that will make a lasting impression this holiday season.