I've always been a writer. Not just out here in public, where everyone and anyone can read me, but privately, in the comfort of my home, at my desk, or curled up on my my sofa, lap tray, pens, paper and postage stamps in place. I am a letter writer. A compulsive letter writer.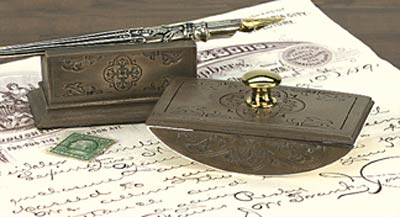 It's a compulsion that manifests itself in the months leading up to Christmas, months when I haul out my once finely honed Palmer penmanship – once done with Parker fountain pen, inkwell and blotters – taught in grueling detail by the nuns at the French Catholic school of my childhood. Honed further still by my mother, whose penchant for cards, notes, letters and postcards were unrivaled in our neighborhood. I get it from her. And her mother and father before her.
Not only did I master true penmanship with old-style instruments, I did half of it in French, a great source of pleasure to my Canadian grandmother, who rarely spoke a word in English to any of us out of sheer stubbornness. At one point in time, I wrote her letters for her: she, seated in her rocker at the double wide kitchen window looking out on a froth of maple trees in fall mantle, me at her feet, paper on a cutting board, writing her messages to cousins, aunts and uncles, all in rural Quebec, when her own hands became too frail, too gnarled with arthritis to hold a pen.
As a child, I perused my grandfather's album, a collection of 100-year-old postcards written when stamps were a penny and postcards were the main source of communication about who's meeting who in which house or barn or park on Saturday afternoon for music or apple-picking or a game of cards. Quick notes in a rapid hand, duly noted and filed, one after another, in that thick faded album.
I begin to think this writing obsession must be a family thing, a genetic code recessed in our DNA, archived deep within us, that, if I have read my family tree correctly, goes even further back to journalist/relatives in Canada in the 1850s.
So dipping into heritage, compulsion, obsession — whatever I might call it — I begin shopping for holiday cards in January, when the most beautiful cards are reduced to nothing in price. I shop summer sidewalk sales in small New England towns, where I always find great sets of cards with elegant envelopes for 75% off last year's price. Victorian Papers [my favorite and frequented mail-order catalogue] is a "best friend" as a source of fine papers and cards. I crave beauty, or real meaning, to send to my friends. I favor the styles and images of a bygone era, or cards of remarkable natural beauty. I want cards that are fairly unique, that scream "Christine sent this…" and I often find it in the pages of a Victorian Trading Company catalogue.
A sampler of Cards from Victorian Papers
My process begins in late September, when I write out my list: overseas, cross country, professional, alumni, local and "attach to gift." I peruse my collected cards. I begin.
"Anticipation" from the Victorian Papers Christmas Card Collection
By mid-October I have a stack of "cards with brief notes written inside" and "cards of signature only." Signed, sealed, stamped, and waiting: a religious card for Bill, a country-style card for Robin, and eco-friendly recyclable card for Sara, something funny for Warren, something pretty or whimsical for Jean. Or maybe they'll all get the "perfectly elegant" find I simply could not resist. The card that spoke to me and whispered "Buy me; I was made for you."
Another stack envelopes rests at a tilt against my computer tower, an unsealed stack that requires detailed letters. One for Irene, a elderly childhood neighbor now living with sons in New Hampshire. One for Annette, my mother's best friend, now 87 and frail, who may know longer know who I am by now. One for my brother, who may or may not write back. One for my cousins in Connecitcut to be read at the monthly family gatherings. One for my new-found Canadian family, keepers of our 400-year-old family tree.
I gather my stationary: embossed linen paper, perhaps with floral borders ("Dogwood" at left) or brushed edges, in soft colors. I favor Victorian designs or earth/nature papers. Perhaps an egret in a marsh in the lower corner of the page, or a spray of wisteria trailing across the edge.
In November I begin those detailed letters, always handwritten, sometimes 3-4 pages, that are my conversations with old neighbors, old friends a distance away, relatives I never get to see…
I curl up with a cup of hot tea, spiced cider or hot chocolate, put pen to paper, and leisurely write the events and the feelings of the year now almost past, filtering in anecdotes and remembrances of times share: the 'remember when's." I season that with hopes and dreams and plans and good wishes. I ask about grandchildren, pets, projects that were underway last time we wrote. The minutia of lives shared in occasional encounters rooted in shared history. I've accrued copies of pictures by then, and tuck one or two inside the crisp fold of each letter.
In an age where e-mail provides immediate gratification and instant communication, I am, I realize, an anomaly.

But just as I love the feel of books with crisp pages to be turned, I love the feel of paper in my hands. I love knowing that something I have touched, that I have taken the time to prepare, now rests in the hands of a friend. Just as I love the feel of their envelopes in my hands, the crisp of the paper as I slice open the seal, the texture of the paper as I unfold their cards or their stationary, the words that friend took the the time to write in their own hand.
Just before I left New England for Tennessee, one of my friends, knowing how much I savor the solitary pleasures of letter writing, gave me a large box of stationary, a Magnolia pattern. I've long since exhausted the stationery, but refill the box constantly, and each time I open the double covers, I run my hands over the surface, remembering how finely wrapped it was, and how the first envelope inside was self-addressed to the giver, with a little note. "Write, please! And often." I do.
~~~~~~~~~~~~~~~~~~~~~
Author's Note: A great holiday gift, especially for the homebound, are boxed all occasion greeting card or blank cards, stationery with a set of pens, a packet of stamps and even pre-printed return address labels.