Some times we are simply compelled to speak out. To stand up for an idea or principle.
When I received a letter from friends and fellow alumna at Goddard College in Vermont about an incident of art censorship in that state (a fairly rare occurrence in that Green Mountain setting), my 'compulsion' turned to action from a distance. I wrote a letter.
Much to my surprise, since I attend Goddard as a low-residency student but live 1400 miles south/southwest in Clarksville, I received a call from the editor of Seven Days, Vermont's alternative print newspaper in much the same way that Clarksville Online is this region's online alternative to corporately moderated media.
To begin with, the issue I responded to was a story titled A Wall Has Two Sides by Ken Picard, a Seven Days writer covering a controversial art exhibit by Peter Schumann: Independence Paintings.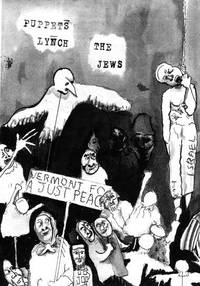 Schumann, 73 (pictured, above left, teaching a workshop), German-born founder of the activist Bread and Puppet Theater of Vermont, traveled to Palestine last year to teach Palestinians about performance art. He listened to the stories of his students, who ranged in age from 18-60, stories of poverty, persecution, home incursions and violence.
Schumann wanted to hear Palestinian stories of suffering at the hands of Israelis. Against this backdrop, Schumann read from The Wall, John Hershey's story of the Nazi extermination of Warsaw Ghetto Jews. This ten-day sojourn of art and literature inspired the controversial Independence Paintings collection.
The paintings in question were created on blackened cardboard in a loose-handed style and depict scenes of religious and ethnic persecution and violence.
Of the exhibit and its explosive impact, Ken wrote:
"Last month, Arab-Israeli tensions spilled the Middle East to the West Bank of Lake Champlain. When a South End Art Hop exhibit depicting the plight of the Palestinians was accompanied by a controversial talk about Zionism and Israel's future, it unleashed a torrent of accusations and countercharges of intolerance, historical revisionism and Nazi-like bullying tactics — in Vermont." — Ken Picard, Seven Days, A Wall Has Two Sides 10.10.07
Picard writes that the exhibit could have been a "catalyst for constructive dialogue" and a unique opportunity to discuss "political advocacy in art." Timing may be everything. The exhibit at what is the equivalent of Clarksville's monthly Art Walk opened a week before the high holy days of Rosh Hashanah and the onset of Ramadan. What emerged bore no semblance to peace, understanding or dialogue; instead is was a barrage of accusations, name-calling, hatred, denunciations, and threats of violence.
When first reporting on the story, Picard wrote:
"It's about walls themselves — walls that protect or imprison us, walls we hide behind, and walls that separate us from one another and from the truth. To shift the metaphor: Art is supposed to cast light in the darkness"–Seven Days, 9.19.07
Yes, the paintings are disturbing. Yes, the paintings are stark, surreal, challenging. yes, the paintings evoke a visceral response. The issue, the very core of the issue, though, is how we respond to it. What does it say to us? What does does it make us feel? What does it ask us?
Being a long-time activist with a generally outspoken attitude, I chose to respond to this controversy with a letter to the editor, which was subsequently published in Seven Days.
This is my letter. Verbatim.
A TENNESSEE TALE

I am continually dismayed by the suppression of art and attempts to limit its availability and accessibility. Art is the voice of the artist, the depiction of ideas, of simple beauties, harsh realities, personal beliefs, political statements and interpretations of those beliefs and statements. The creation is entirely at the hand, from the imagination, and in the vision of the artist, just as the impression or perception of it is in the eye of the beholder.

Last year in Tennessee, censorship reared its head over the creation of food art juxtaposed with the American flag as a statement about obesity and health in America. The exhibit was closed. Granted, it was not to everyone's taste, but it made a valid point about a social issue in America. The fact that a work of art may be controversial doesn't make it wrong.

Go ahead: Voice dissent, open the subject for debate, foster intellectual debate on the underlying issues. These are the footings for communication and understanding. Open that debate, but don't shoot the messenger.

Our country was built on the guarantee of certain freedoms, including freedom of speech. To quell the voice of an artist, any artist, is to step on one of our First Amendment rights as American citizens. Once the move to silence such voices begins, it will not end until the entire choir has hit its last chord.


— Christine Piesyk, Seven Days, 10/10/07
Peter Schumann photo by Richard Finklestein