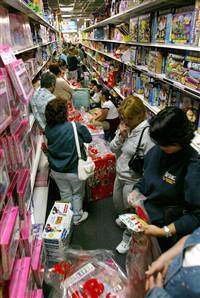 "Black Friday" has traditionally been the start of the holiday retail season, a ghastly exercise in consumerism that has reached epic proportions, taking the focus off the Thanksgiving holiday and instead thrusting the spear of hefty ads sections to be perused during the Turkey day half-time shows.
All week I have been reading about stores launching pre-Thanksgiving Day sales, and "news" stories of 4 a.m. openings and expected lines of customers, steaming coffee in hand, snaking around buildings in long lines, queued up to vie for the best of the best bargains ASAP.
Sorry, folks. I don't buy it. Or I should say, I already bought it, back in January, when the end of season sales happened. I shopped heartily and at my leisure, picking up great deals for as much as 80% off the lowest ticket price. I keep a covered bin handy in the back of my closet for such purchases; I find, buy, fold or package carefully and store. Comes in handy for occasional birthdays, "just because" gifts, extras for the grandchildren, and of course, Christmas giving.
The next step is waiting a bit closer to the actual holiday, when priced are slashed in a desperate bid for those 11th hour sales. Cha-ching, cha-ching, the cash registers ring. Then I shop, but still choosing off-peak hours to minimize the insanity I call "Christmas frenzy."
Of course, I also follow our family tradition, which means NOT piling up presents to the ceiling. As children, my brother and I were gifted with a big "Santa" item or two under the tree, our bags of homemade tollhouse cookies, with other gifts coming from relatives and friends who came to dinner or simply dropped in to visit. As a single mom with every dollar stretched tautly, my mother would no more pile up a dozen gifts per child than she would burn dollar bills in the trash barrel each week. We survived. We also valued what we were gifted with; there was no "shuffle" for things to be lost in.
When my daughter was little, and later when my mother was aging too quickly, I baked breads — cinnamon nut breads and pumpkin breads and banana breads, carefully wrapping and garnishing each with a handmade gift card (recipe included) for gifts to everyone from the lady next door to the friend who couldn't bake to save her life, to the building's maintenance man to relatives who just loved these breads. It was more than a process of creating gifts, it was a chance to share time and conversation, a gift to ourselves as well.
A few years ago at Thanksgiving dinner, all conversation stopped when the sale flyers arrived in the daily paper. I was stunned. It wasn't my house or my paper, but all I could wonder was: What has happened to us that we are so consumed with consumerism? Are we buying approval? Love?
I remember a Christmas morning when my daughter crawled to the base of the tree to tear the ribbons and paper from a gift. A just a year old, she loved the crunching sound of paper and spent most of the day playing with the boxes. I bought a catnip toy for our kitten but she just played with the paper and the boxes too.
I plan to spend a wonderful Thanksgiving with people who care as much about me as I do about them. I will not be browsing the ads. As for Black Friday, I plan on sleeping late, reading a book, playing with my new kitten and sipping hot chocolate with old-fashioned marshmallow fluff on top.