In an intimate setting at the Customs House Museum Saturday night, The Cantrells delivered a toe-tapping concert performance of many of their unique blend of folk, fiddling and down-home music.
While the audience was small, enthusiasm for these performers was deservedly huge. The repertoire ranged from a rendition of Fats Waller's Honeysuckle Rose to a striking cover of Autumn Leaves, from a step in Appalachian Spring to This Quilt, a story song of a quilt and the "threads of time."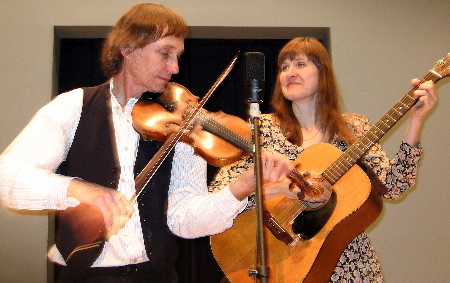 Al and Emily Cantrell
Al and Emily Cantrell (above), simply dressed (but with a splash of glittery buttons on Emily's dress) did what they do best: make music. No back up bands, no yards high stacks of speakers, just a guitar, a fiddle, mandolin, guitar and great voices. Nothing else was needed.
From the first chords the audience was caught up in the music, evidenced by tapping fingers and toes, bobbing heads, all keeping time to the music.
Emily's deep rich voice holds an earthy beauty and sultry strength destined for the kinds of songs she writes and sings, story songs of lost coal miners, lost loves, family traditions — some with wit and whimsy (as in the story of being married three times) and others poignant (as in the letter from a lost Sago miner).
Al Cantrell is a master fiddler; whether shining in a solo or accompanying his wife, his fingers stretch the limits of the bow as it flies over the strings. There is an ease of movement and sound that tells us playing this music is what he was born to do.
As they shift between instruments and styles of music, they offer a gentle sense of humor and a bit of background on their lives and their music. In the intimacy of the small concert hall, it became a conversation of sorts between performers and listeners.
The Cantrells, who appeared in Robert Redford's acclaimed film, A River Runs Through It, have traveled extensively, culling old songs and creating new ones from the American landscape. The lyrics speak to us and the chords they strum echo the chords in our hearts.
Their CDs include Dancing With the Miller's Daughter, Under a Southern Moon and The Heart Wants What It Wants.
For more information on the Cantrells or to get information about their music and CDs, visit their web site at http://thecantrellsmusic.tripod.com. There music is also available on Apple's iTunes music service.