Verdicts are in on the two day mock trial, U.S. vs. Bush. Bush was found guilty on the charges relating to illegal and unauthorized domestic surveillance and wiretapping of American citizens and violating the Separation of Powers and FISA by ordering a secret Executive Order authorizing such action.
Bush was acquitted on the other charges though the presidential signings would have been a guilty verdict if not for a prosecutorial procedural error in not providing verification of a signing statement entered as evidence.
The Prosecutors, from left: Michael Price, Michael Hughey and helper Karl Lukis
The trial took place over two days, in two-hour sessions, not a lot of time to present evidence. Time constraints limited the number of witnesses and the presentation of evidence for both prosecutors and defense teams, and resulted in the guilty finding on one of the four counts. Given the apparent ease with which, in just four hours, this student panel managed to convict the President on one of four counts, it would be interesting to see what a week's worth of trial would produce. As it stands, the APSU prosecution team scored a major victory for civil liberties. «Read the rest of this article»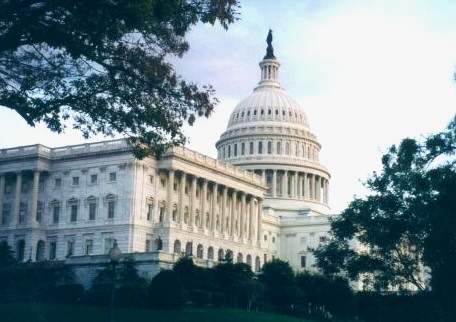 The House has passed H.R. 6, a bill containing moderate energy reforms. The best part of this action is a repeal of $13.5 billion in tax breaks for oil companies. Haven't they been reporting record profits? Some Republicans objected to the repeal, and hope that it can be taken out when the bill goes to the Senate. Aren't we looking for a way to reduce the federal deficit? Democrats are 'supposedly' guilty of tax-and-spend. The current administration is just 'spend'.
The bill raises fuel efficiency standards, requiring that cars average 35 miles per gallon by the year 2020. Although this is quite modest compared to other countries standards, it represents the first US increase in efficiency standards in over 30 years.
The bill also mandates that some of the electricity produced by utilities come from renewable sources. Contact your legislators to support this minimal change to US energy policy. Support H.R. 6
Shoppers in the St. Bethlehem area are being urged to use caution in the wake of a series of attempted robberies involving shoppers returning to their cars.
Detective Michael Patterson is presently investigating three robberies that have occurred in the St. Bethlehem area. All three robbery attempts involved women who were alone at the time of the incidents. The suspect's car (shown at left) was caught on security camera and released by police.
On Friday, December 7, 2007, in the parking lot of Kohl's, 2840 Wilma Rudolph Blvd, a female that was at her vehicle was approached by a black male, wearing a thick nylon jacket, with fur around the neck area. This male attempted to enter her vehicle; however, she had her doors locked and drove off. «Read the rest of this article»
Kim Smith and Robert Lewis were awarded top honors for their service to the Montgomery County Democratic Party during a ceremony and holiday event held at the Smith Trahern Mansion Tuesday. The party's Lifetime Achievement Award was presented to Robert Lewis, vice-chairman of the MCDP. The Major Nathanial Carter Award for "Volunteer of the Year" was presented to Kim Smith.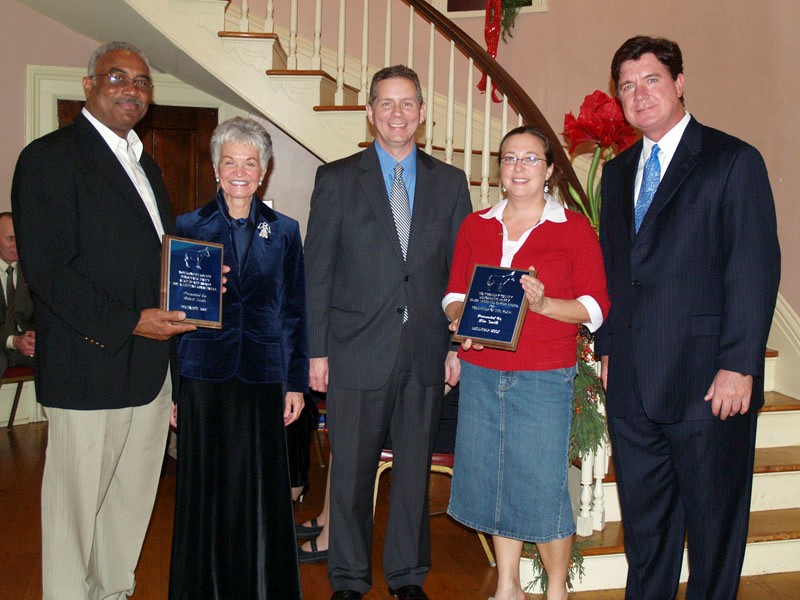 From left, MCDP Vice-Chair Robert Lewis, Senator Rosalind Kurita, Rep. Joe Pitts, Kim Smith, and House Majority Leader Gary Odom at Tuesday's MCDP holiday celebration and annual awards ceremony.
State House Majority Leader Gary Odom addressed the group, summarizing the legislative achievements of the year while citing a need to continue to "build up our majority" in the State House. Odom tossed a question to the audience in an impromptu forum centered on the Hope Scholarship. Odom said the past year in state government "was one of the best" in his 21 years of public service. «Read the rest of this article»