Crossing into blue state territory is always an adventure; being in blue state territory as the first presidential caucuses and primaries unfold is, to say the least, exhilarating.
From my cozy corner in a computer lab, far from radio and completely without television's frenetic coverage, I watched the Iowa caucus results unfold on the web: a few surprises, a lot of predictability. Today I keep checking in on the New Hampshire vote.
One of the more interesting quirks in snow-bound New England is the midnight in two of New Hampshire's smallest communities, Dixville Notch and Hart's Location.
Notch voters turned up at the midnight hour to toss seven votes to Barrack Obama, three for Hillary Clinton and one for John Edwards. On the Republican side, Dixville gave John McCain six votes, Romney two and Rudy Giulliani one.
Hart's Location voters put nine votes on Obama's tally sheet, three for Clinton and one for Edwards. As for the Republicans in Hart's location, John McCarn took six votes over Mike Huckabee's five, with Ron Paul taking 4 and Mitt Romney matching Edward's single vote. Reportedly, voters are turning out in significant numbers, and a spate of winter thaw and 50 degree temperatures won't hurt that turnout one bit.
We will be watching as the vote unfolds in the Granite State, though the BBC reported today that a poor showing in New Hampshire may see Clinton pulling out of the race. I'm not sure she'll cave that easily, but she will have to rethink her strategy. McCain wasn't a factor in Iowa but a strong push from voters in his favor could have the same effect on the future campaigns of candidates like Romney and Huckabee.
As for the election so far, there's been little question in my mind that Republican Mike Huckabee's bid for the state of Iowa was a given; his "cross" ad, his bible-based political views and staunch conservative positions would serve that Midwest Christian base well. Mitt Romney, well, Romney didn't have a prayer. Not that he's out of the running. There's still the rest of the country, and that's where Huckabee may not play as well.
Giulliani continues to work other key primary states but lags behind in most polls. Fred Thompson's flagging war chest is placing limits on his visibility and viability.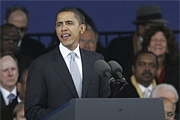 Barrack Obama's strong Democratic showing over the Hillary Clinton (3rd in Iowa) and John Edwards (2nd in Iowa) challenge was a bit of surprise; I thought Obama would do well, and he certainly did, but he took even my expectations a bit further. Interesting surprise, and one which — in this conservative Midwestern state — puts the focus on one key word: "Change!"
Obama's hefty margin has forced his competitors to rethink strategy and intensify their campaigning as they carry this contest to New Hampshire. Hilary Clinton's base of over-60 women couldn't compete with Obama's energized 25-59 age bracket appeal. With Clinton now a lagging third in this trio, the battle for the Democratic nomination hurls forward.
Romney's not out of the game; McCain's the new NH player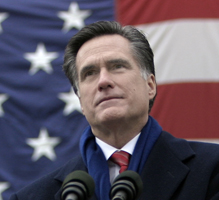 Romney (right) has a much better shot at good numbers in New Hampshire, but John McCain has been making strong inroads there. At 71, McCain admits he might be a one-term President and that could be a concern to the political powers-that-be of his party, but New Hampshire voters seem to like him. Romney's riding on issues such as the state-mandated health insurance program he implemented in Massachusetts, a program for which the success quotient has not yet been tabulated.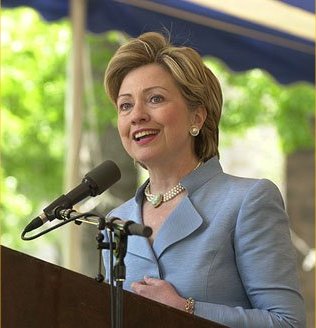 As a sideline to that issue, my conversations with Massachusetts residents while On the Road in America suggest that for "Joe average," the cost of the mandatory Massachusetts premiums is a burden, and the cost and bureaucracy of enforcing non-compliance will become increasingly challenging. One health care "consumer" I spoke with said the $300 a month premium on his "second from the lowest" medical plan is eating a hole in his monthly income, and with a higher deductible and larger co-pays on top of soaring energy and fuel costs, he's hoping that even with insurance, he doesn't get sick. He's not planning on wellness care either.
While the religious base seems to be anchoring point for the Huckabee in Middle America, it may play less well in the less Christian-centric and more open-minded New Hampshire. Tennessee's own Fred Thompson is not even campaigning there.
Though shunted aside in the bulk of media coverage (perhaps he's too normal and too non-controversial for modern media's papparazzi-like coverage), Edwards may be the steadiest and most consistent of the candidates: not at the top, but not at the bottom, simply accruing a steady base and a slow surge of support. He lacks the controversy of Clinton and the flash and rhetoric of Obama, but he plots a steady and fairly unwavering course that may ultimately be the winner in the race for the Democratic nomination. The consistency may be the stability factor American Democrats are looking for.
It's still a horse race. On both sides. I'll be keeping an eye on New Hampshire on Tuesday night.