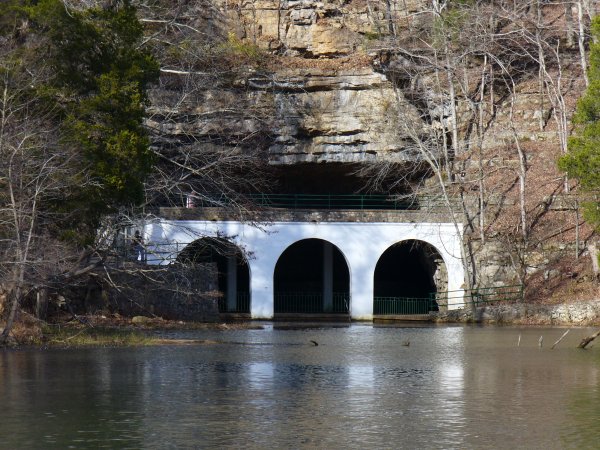 When you see the amount of graffiti on the walls inside Dunbar Cave, you can't help but feel shameful about that horrible violation to the cave.
Thousands of scribbled signatures cover the fragile walls of this living underground environment. One visitor commented, "I wonder if there was a time when each person was handed a marker as they were going into the cave?" Visitors also see little of natural stalactites or stalagmites; many of them were taken down either through vandalism or for grinding up into mineral waters.
Nathan Smith, David Britton and Ranger Adam Neblett
A one-quarter mile length of cave on the tour shows very tiny drips of new growth on the ceilings and floors. The cave owners since 1973, the State of Tennessee, have been preserving the cave from vandalism.
Before the State of Tennessee purchased the site, Dunbar Cave was owned as a resort ; it provided 58 degree natural air conditioning at the mouth of the cave.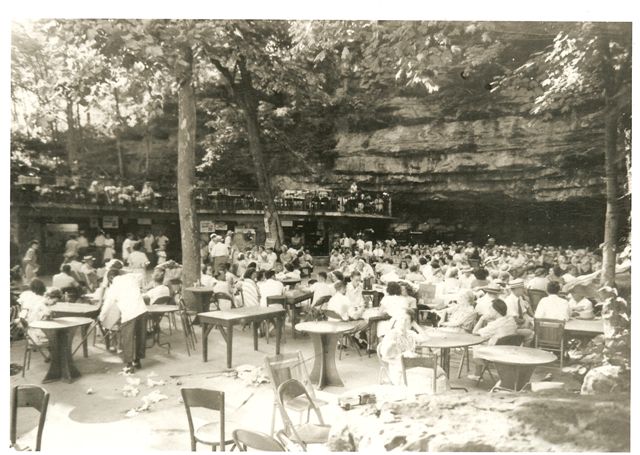 Other amenities were added to take advantage of this natural coolant: a dance floor, food and bingo booths, then a bigger dance floor, swimming pool, and a man-made lake with paddle boats. The scene was a source of fun, romance and entertainment from the 1930's through 60's. The cave had lights in it, which have since been removed. Countless visitors walked its paths.
This picture shows tour guide smoking as he's leading a tour. Behind him, the wall of the cave is covered with graffiti.
Only a few years ago, as Larry Mathews was writing a book about Dunbar Cave, a picture in the cave was noted and later carbon dated by experts. Experts attributed the cave art to Mississippian Era Indians, often referred to as Mound Builders, and dated the art around or before the 14th century. You can watch Fox News coverage of Artifacts, on the Friends of Dunbar Cave web site at http://www.dunbarcave.org/
Finding graffiti made by Indians was an exciting discovery, staff at the cave continues to peer through the graffiti to spot more Indian art. To tour the cave and see the art, you must make a reservation with the State Park. Tours run between March and November. Call (931) 648-5526 and visit the Dunbar Cave web site, http://www.state.tn.us/environment/parks/DunbarCave/index.shtml
Three of Dunbar Cave's staff have recently made some other discoveries about the graffiti in Dunbar. One signature in particular caught their interest: it said, "Capt.," "southern" and "1863. " After a lot of study they surmised it said:
Capt. G. Holt, Southern 3d Ky reg(iment) August 1863, Beware Yankee
David Britton's research proved the findings: Captain Gustavus Holt was a Confederate soldier. Along with most significant Southern Civil War battles, his regiment participated in the battle of Shiloh. In 1864, the year after he signed his name in the cave, he was made a lieutenant colonel and within that same year made a colonel. In 1865 he returned to Murray, KY, to practice law.
The question arises to those who know Clarksville history: since Clarksville was under Union occupation in August of 1863, how did this Confederate Captain manage to sign his name on the cave wall? One speculation suggests that while the Union was having a picnic on August 18, Captain Holt dressed in civilian clothes, entered the cave and signed his name under the enemy's nose to despite the occupying forces. Anyone with any information is invited to contact Dunbar Cave State Natural Area @ (931) 648-5526.