I sent this letter opposing the Clarksville Center Redevelopment Plan to Clarksville City Mayor Johnny Piper and all twelve City Council members on Tuesday, February 5th, 2008. So far I have only received four replies.
To my elected representatives:
As a registered voter and a property owner I am extremely concerned and alarmed about the so-called "blight" ordinance, 73-2005-06. I live within the area designated as "blight" by this ordinance, and am beyond disappointed at both this current city council plus administration as well as with the former city council plus administration.
I NEVER received proper notification of this ordinance in any stage of its development. I received absolutely nothing in 2006 when it was up for its first reading, nor did I receive anything this past fall when it finally was scheduled for a second reading. Had I received proper notice of this you would have certainly heard and read my thoughts long prior to today. This document should have never been passed.
Continued below the fold…
Editor's Note: The Clarksville Property Rights Coalition is asking that people who oppose the redevelopment ordinance to attend tonight's city council meeting wearing red. The public address period begins at 7:00pm, while the official city council meeting starts at at 7:30pm. The council meeting is being held at the Board of Education building, which is located at 621 Gracey Avenue (approximately where the old Acme Boot building was on Crossland).
«Read the rest of this article»
Stacey Campfield (R, Knoxville), a self-described Christian and one of the more colorful members of the Tennessee House of Representatives, recently introduced what many have viewed as an extremely confusing bill regarding that which he most eloquently describes in his blog as "what should not be taught in our schools." This bill, HB2997, requests the amendment of the Tennessee State Code to prohibit "any instruction or materials discussing sexual orientation other than heterosexuality" in elementary and middle schools.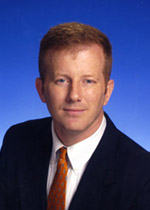 Campfield (at right), during his short tenure in the House, has gained a reputation for introducing controversial, if not peculiar, legislation that many view as antagonistic and bizarre. His past history of failed attempts to limit academic freedom are also well known. In 2005, he introduced HB0432, which was an attempt to limit instructional content by specifically denying classroom teachers the opportunity to express their own personal beliefs with regards to the material that they present. At the same time, Campfield made it clear that he felt as though students should have the right to "speak without fear of hurting their grades." Many view this as an attempt to legitimatize the rights of free speech for students, but to limit them for classroom instructors.
Last year, Campfield has introduced legislation calling for the removal of the sales tax on food, replacing the lost revenue to the state with additional taxes on pornography. As a Christian, he justifies the potential for financial gain through the taxation of an industry that many of his fellow Christians would call immoral, by defining it as a "luxury item." Many viewed this legislation as an attempt to give good reason for the sale of pornographic materials and the peddling of human flesh through a motive to fill the State's coffers. «Read the rest of this article»