The most important message to send to TN lawmakers is: We must have paper ballots in time for the 2008 Presidential election!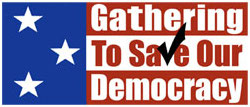 The house state & local government committee rolled our bill (HB 1256) from Feb. 5 to Feb. 12 – this coming Tuesday. It will be heard at 10:30 in Room 16 at Legislative Plaza.
The senate state & local government committee will be hearing our bill (SB 1363) that same day at noon in Room 12.
We expect (but aren't sure) that both bills will pass out of the committees. The next stop is the Finance, Ways & Means committee where the members will consider how the bill would be funded. This is where we anticipate the most difficulty.
However, there are reasons to be hopeful «Read the rest of this article»
A Valentine's Day DVD Recommendation!
Guys, Here's a suggestion that's sure to be a hit with your significant other! Get a copy of the DVD of the 1996 movie, "The Truth About Cats and Dogs."
The movie is a romantic comedy loosely based on the classic French novel, "Cyrano De Bergerac." Most of us are likely more familiar with the Steven Martin adaptation "Roxanne," only here the gender of the love-smitten" and "the pursued" roles are reversed.
Janeane Garofalo and Uma Thurman gives this "Chic Flick" real entertainment value. Their portrayals are tight and really engaging.
Ben Chaplin plays the role of "Brian," the duped love object of Garofalo's "Abby." He is captivating in his pursuit of his dream girl. The real question is, "Which Abby is the one he really loves?" Fortunately for him, "Hank, the rollerskating dog" helps him figure it out! «Read the rest of this article»