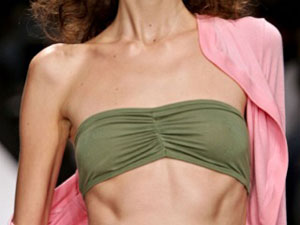 Europe's fashion community made a bold move this month with the enforcement of Body Mass Index requirements for its high fashion models, refusing to use runway models who fell below BMI standards. In other words, you can be too thin.
Yes, the models will still be tall, thin, willowy, perhaps angular, but emaciated is OUT. It is a long-needed move toward better health with a long range goal of changing the perception of beauty from bone-baring thin to a more healthy shape.
In Hollywood films, on every TV channel, and in thousands of pages of fashion magazines, the icon of beauty for the past 20 years has been the ever-diminishing body mass of models. The concern exploded into public consciousness a few years ago with the skeletal form of TV's Ally McBeal, and cross cuts social strata in the form of bulemia and anorexia, the health-endangering weight loss tactics used by too many women and girls in their efforts to be fashionably thin or meet some unrealistic standard of beauty.
This week the Cibeles show in Spain rejected three young models whose BMI was less than 16. The show requires a minimum BMI of 18. The models, from Italy, France and Poland, may have been healthy, but were deemed "too thin." Cibeles barred "too thin" models from its runways in 2006, and that move is being emulated in the fashion houses in Milan and other couturier cities. Spain has also launched an effort to resize store mannequins away from the super-thin size -0- trend. The ban on low BMI models was spurred by concern for the health of models and the impact that thin body image has on teenagers as manifested in the form of eating disorders. In 2006, models in Brazil and Uruguay died on starvation in their quest for thinness.
England (London) has not joined this effort, although fashion leaders in that country have banned models under age 16 and also require health certificates for all models. The World Health Organization defines a BMI of 18.5 as underweight.
In a related story, Spain was reportedly taking the lead in an effort to create a standardized sizing system that will make clothes for women that actually fit. A recent study scanned 10,000 women and found that sizes of four in ten of those women could not be matched up with clothes available on store racks, and found most garments to small or too tight. "Vanity" sizing, the act of putting smaller size numbers on clothing, is just one of the mind games played out in the fashion industry. The result or the study: abolishment of the current sizing system.
Several fashion houses are sitting down with British government leaders to devise a new set of standards for the sizing of clothing that will factor in measurements of height, waist, bust, and hips. Standardizing those sizes could end the guesswork for millions of women. British planners hope their sizing standards will be adopted by countries across Europe. The sizing issue is being launched in the venue of women's clothing, but menswear is next on the agenda. Another 10,000 people will be scanned in the near future — Men.
The studies unearthed disturbing findings: most women classified as too thin were actually "severely" underweight and should have medical help in dealing with their body image issues.
While on the surface and in light of global agendas, this whole issue of thinness may seem superficial. But the root of the studies and the recent implementation of BMI standards in fashion houses is a result of an alarming trend toward eating disorders and unrealistic perceptions of beauty.