Tim Catchim has started a green business in Clarksville – curbside recycling, otherwise known as Recycle Clarkville. I signed up as a customer and he's picking up my recycables every week for $10 a month. It is great that I don't have to load the stuff in my car and drive to the recycling center. Another advantage is more room in my garage.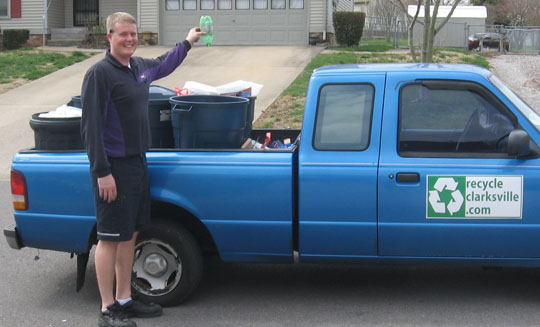 Imagine, for a moment, if you had to keep all your trash. Those plastic trash bags would pile up in your yard or spare room week after week, month after month, year after year. You'd also have to pack and take that garbage with you when you move to another residence. When we roll our big plastic container to the end of the street every week, we don't usually see or think about that trash any more. We can go visit most of that same trash we've been throwing out for years at the Bi-County landfill off Dover Road.
Being a treehugger, I've recycled aluminum, paper, plastic, cardboard, and glass for many years. I also donate used clothes, toys and other items which is another form of recycling. If you've had a yard sale then you're also a recycler. My daughter and I have much less garbage than most because so many items go in our recycle bins instead of the garbage can.
When I asked Tim what prompted him to start the business, he said thought for a few moments and responded:
"I began to develop a conviction about being a good steward of the earth as I delved into the concept of what God will do to the earth when he come back in fresh creative power. He will transform the earth into a new heavens and a new earth. As such, our participation in caring for the earth is a foreshadowing of that event. When we take care of the earth we are participating in the culture of God and his desire to take care of all his creation, both people and the earth."
Tim's initial plan was to do this for his neighbors at no cost. "We felt like there would be people who would recycle and do it more often if it was convenient for them. We then started thinking about doing some surrounding neighborhoods and then the issue of gas and time came up. So then we said to ourselves 'Why not do the whole city for an affordable price?'"
The recycling business is a family affair. "My wife helps me with whatever she can do. She works full time with the state so her opportunities to participate are limited. She is very kind and patient however in this start up phase that eats up a lot of time and money."
When it comes to sorting and handling recycling at home, Tim, who has lived in Clarksville for five years, has some recycling tips and a list of recyclables on his website. He notes that stores such as Lowe's and Home Depot have stackable containers that allow you to save space.
He only requires his customers to keep paper separate, so sorting is not really an issue for the consumer. All aluminum, cardboard and plastic and glass can be placed in the same container, and paper in another container.
"Because we come by once a week, you do not have to worry about things stacking up and starting to smell.
Composting is also another option if you have space in your backyard. 15% of your trash is food or biodegradable."
The response to date has been very encouraging, Tim said.
"While we will probably not be signing up half the city, or a fourth for that matter, it has been encouraging to see hear from the people who do recycle, even the ones who are still taking theirs to the drop off locations. No matter how you do it, to know that there is a sector of the city out there that cares about the environment has been very encouraging."
Yeah, it's a little inconvenient and takes a little time but I'm sure it is the right thing to do.
Over 80% of household trash is recyclable. As a result most people who recycle see a major reduction in the amount of trash that ends up in their trash cans. This reduction allows them to scale back from weekly trips to the dump to bi-monthly and sometimes even once a month.
Contact Tim: www.recycleclarksville.com 931.338.5027 email
Photo by Faith Robinson