Clarksville Branch officials support neighboring branch efforts
The NAACP, National Association for the Advancement of Colored People, Springfield Branch is currently undergoing a reactivation and reorganization effort. The branch had lapsed into an inactive status. However, citizens recently have expressed their desire to see the branch once again active and engaged in local affairs as an advocate and watchdog for their civil rights.
Rev. Gardner with Terry McMoore and Jimmie M. Garland Sr. of Clarksville Branch NAACP.
Rev. James Gardner, president of the Springfield Branch, conducted the meeting. The reactivation meeting was attended by more than sixty citizens. He thanked those attending. He stated that the main objective at this point is to increase the membership level to the critical threshold for activation as a viable branch. Due to recent constitution changes, branches are now required to have a minimum of 100 members for activation.
Rev. Gardner stated that a primary interest of Springfield citizens is the equitable distribution of taxpayer dollars in providing city services such as sidewalks, street lights, parks, recreation and/or community centers. He said that some citizens had expressed dissatisfaction with the lack of sidewalks in the Southside and Westside communities, while seeing the provision of these amenities in other more affluent areas of the city. There was also concerns with the lack of adequate street lights in the aforementioned minority communities. While more affluent areas of the city seem to have no problems getting this city service, minority citizens are at a lost to understand this disparity in regards to their own community. Gardner then stated that "all residents should feel that their government hears and heeds all inquiries about government services."
Representing the Tennessee State Conference of NAACP Branches and the Clarksville Branch were State Conference 3rd Vice-President and Clarksville Branch President Jimmie M. Garland Sr. and Branch First Vice-President Rev. James Hill. Garland addressed the gathering, encouraging their continued efforts to reactivate their branch. Garland noted that a review of the local government structure might well reveal a disparity in school system suspension rates, and likewise a review of jail incarceration rates might display a similar disparity in the make-up of inmates. Garland said there is clearly defined "Cradle to Prison" syndrome being impacted upon the minority community. Young minority males, both Black and Hispanic/Latino, are finding themselves routed out of the social mainstream, via suspensions in the education system into the juvenile and adult judicial/incarceration system, at devastating rates. Additionally, he stressed that a review of the heads of local government agencies will likely show a disparity in positions of leadership. "All of these points are areas of concern and interest to you and the NAACP."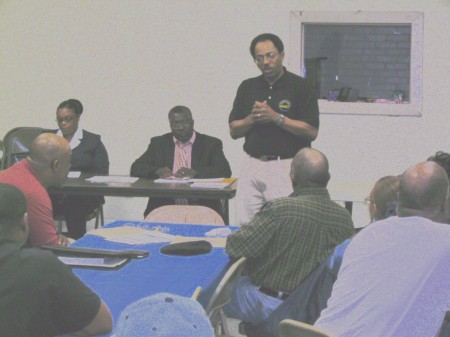 He noted that the history of the NAACP is borne out of a desire and struggle for equal treatment in America's bounty. The fight against discrimination which so many Americans, not just Blacks, but also Native Americans, Jews, Chinese, Irish, Catholics, Hindus, Arabs, Persians, Italians, Hispanics and Latinos, the handicapped and the disabled, the immigrant- regardless of status, and the GLBT community, have suffered at one time or another has been championed by the NAACP. Equality and fairness are the main goals of the NAACP's struggle. "As much as we would like to see the day when we don't have to make that argument, THAT day is not yet here."
Garland said the Tennessee State Convention would be held in Clarksville in September and invited the Springfield Branch to co-host along with the Dickson and other neighboring area branches. He added that this would be an excellent opportunity for a newly initiated Youth Council to meet and network with other Youth Council chapters from across the state as well.
First Vice-President Rev. James Hill spoke of the shared health interests between Springfield and Clarksville. He heads up CAMTAN, Clarksville Area Ministers Technical Assistance Network, a HIV/AIDS assistance and support network, which serves clients in both Clarksville and Springfield. The organization provides assistance and support to HIV/AIDS victims. The lack of funding to communities beyond the Greater Metro-Nashville population places many of these victims in adverse situations of alienation, abuse, neglect, homelessness and an inability to obtain the medical care vital to their very survival. Additionally, CAMTAN is also active in increasing awareness of STDs. He said that the statistics for infection rates of STD's and HIV/AIDS in the Springfield/Clarksville and greater area represent an underreported population that will only increase the need for treatment. Many people who are infected with HIV are not even aware of their condition. The infection rate for STDs such as Chlamydia, Syphilis are on a rampant upswing in our area. Statistics show that women, especially Black women, are bearing the brunt of the HIV infection upswing. Rev. Hill told the group that CAMTAN serves Robertson, Chetam, Stewart, Dickson, and Montgomery counties and is not a government funded agency.
Terry McMoore spoke to the group as the past press and publicity person for the Clarksville branch. He encouraged the group to continue in their effort and said that their mayor had issued a press statement saying, "As long the leaders and membership are the right make-up, the NAACP is welcome in Springfield." He urged the group to take the mayor at his word and show local government that " 'the right people' are indeed involved with your branch." He went on to say that, "Often people outside the NAACP fear its presence. but that need not be the case. Experience has shown that many times officials conduct government affairs in discriminatory ways unintentionally, out of ignorance. Many times, thru NAACP efforts, when those ways have been shown to be hurtful and harmful, the officials have taken corrective actions to eliminate the offensive practices." He encouraged everyone to become branch members and be active in branch affairs. He also told the group to solicit their own government officials as members.
In an encouraging sign, when a call for a show of hands of registered voters was made, every Springfield citizen's hand was raised. Rev. Gardner thanked the Clarksville visitors for their encouragement and show of support. Membership forms were distributed to the group. Membership is open to all who support the mission and objectives of the NAACP. The Springfield Branch meets monthly, on the second Monday of the month, at 7 PM. Contact Rev. James Gardner for further branch and membership information.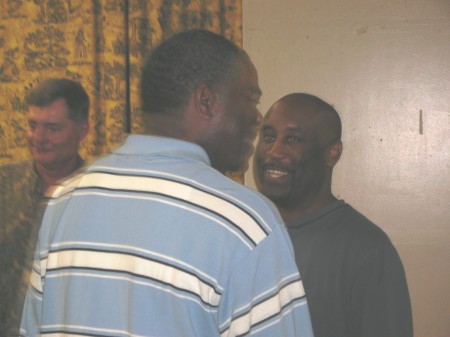 Springfield citizens excited about the branch reactivation.
Springfield citizens talk about their objectives.
Rev. Hill and Rev. Gardner converse among Springfield citizens.