High cost of food. High cost of fuel. One topic or the other is headlining the news everyday, with the per barrel price of oil topping $117, and gas prices in some parts of the country topping out $4.00 a gallon today, economists are predicting $4 a gallon here in Tennessee by summer. Tonight the Shell station on South Riverside Drive was adding another two cents to the price of regular unleaded. The cost of premium will really widen your eyes, just before it takes an even bigger bite out of your wallet!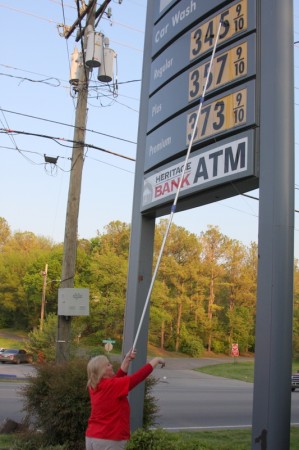 Sheryl Pace of the Shell Sudden Service gas station located at 1070 S Riverside Dr increases the price of gas by 2 cents a gallon. She said she expects the gas prices to continue to increase.
Despite wind and rain, Nashville's 'Nation for Change' participates in simultaneous nationwide event.
Members of the Clarksville Team Obama attended the Nashville Nation For Change Obama rally Saturday. On the plaza behind the state capitol, members of Nation for Change held a rally in support of Senator Barack Obama's presidential campaign. Regional and local speakers addressed the supporters. Several performers were also on hand to entertain.
Rev. Jerry Jerkins of Clarksville (at left) next addressed the rally. He enthused the crowd with his message that "Senator Obama reflects that new morning has arisen! There's a fire growing in the hearts of America!"
Randall Dunn, state coordinator of Nation For Change, kicked off the rally with a welcome message. He reminded everyone that this event was part of a simultaneous nationwide rally and thanked everyone for their continued support of the Obama campaign and the staging of this event. «Read the rest of this article»
Ask not what your Earth can do for you.
Ask what you can do for your Earth.
I know alot of wonderful people that are working hard to make this a healthier planet. I'm sure we have many, many people in the Clarksville area that are living with the environment in mind. As a Earth Day activity, I invite you to comment to this post and let others know at least one of the actions you take to Reduce-Recycle-Reuse.
Here is a list of some of the things I do:
Bought a Prius (even though no rebates or tax incentives remain)
Buy Green Power
Recycle paper, plastic, glass, cardboard, tin, aluminum
Compost
Write my local, state and other government representatives to support environmental measures
Eat less meat
Use my programmable thermostat
Buy energy efficient appliances & HVAC system
Active in local environmental groups
Buy only CFL's «Read the rest of this article»