Red Cross scrambles to aid storm victims
Palmyra families "lucky to be alive"
Tornado shreds Fairgrounds Pavilion
Massive clean-up underway across southern Montgomery County
The day after a night of storms dawned with many families still without power and emergency response teams pouring into Montgomery County to undertake the task of restoring power, removing downed trees from power lines and roadways, and setting the process of recovery in place. Weather officials estimate that four F-1 tornadoes touched down across the county, three hitting the Palmyra area. The fourth hit Clarksville. F-1s have winds ranging from 86-110 miles per hour.
No place was the pressure felt more than at the Clarksville-Montgomery County Chapter of the American Red Cross, which just two weeks ago sustained a disaster of their own when an arsonist torched the agency's Emergency Response Vehicle [ERV] filled with disaster response equipment. Faced with the devastation of a tornado, its victims, and a horde of emergency responders to assist, Red Cross volunteers rallied, utilizing many of their own resources in the first hours after the disaster. «Read the rest of this article»
On April 14, 2008, James Hansen of NASA Goddard Institute and Columbia University Earth Institute wrote the following letter to Governor Jim Gibbons (Nevada) as a "Plea for Leadership" in the battle against global warming, a battle to save Planet Earth. We thought this "plea," this request for stewardship, was worth repeating. For the complete document (including "Fossil Fuel Facts" referenced within) and supportive documentation on this issue, please check out http://www.columbia.edu/~jeh1/mailings/20080414_GovernorGibbons.pdf
I hope that I may communicate with you as a fellow parent and grandparent about a matter that will have great effects upon the lives of our loved ones. I refer to climate change, specifically global warming in response to human-made carbon dioxide (CO2) and other pollutants.
Governor Gibbons, the scientific advances in just the past few years, paradoxically, carry both bad news and good news. We have already passed the threshold of atmospheric CO2 levels that we can allow to exist over the long-term. Mother Nature, as a friend of mine has noted, is wagging her finger at us, saying "Now you have gone too far!" Consequences of ignoring this admonishment would be dire. The Earth is nearing climate "tipping points" with potentially irreversible effects, including extermination of countless species, ice sheet disintegration and sea-level rise, and mass dislocation of populations. «Read the rest of this article»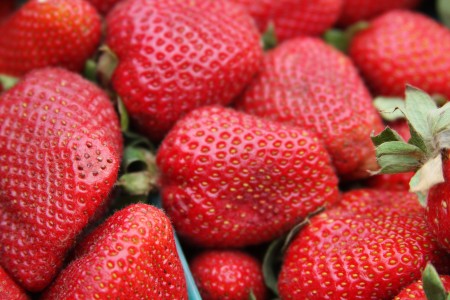 On our way from point A to point B, riding along Madison Street this afternoon, I did a double take at the sight of a roadside vegetable stand. Basically, a small table laden with okra, beans, strawberries and succulent tomatoes. We continued on to our destination, but hurried back to check it out.
I've suffered roadside fruit stand deprivation since I left New England, where it seems we could buy garden fresh produce on every other corner in town, walk or take a bus to the farmers markets, and never have to buy produce from a grocery store in summer. My favorite was fresh still-damp-with-dew butter and sugar corn (bi-colored corn), driven to the stand straight from the field. And yellow beans (which barely seem to exist here in the south). «Read the rest of this article»
Power outages, downed power lines, extensive debris, property damage
In the dark of night, lit only by shards of lightning, families in the High Street area surveyed the damage from what at this writing appeared to be a tornado strike just missing downtown Clarksville. Several homes were damaged by trees; power lines, downed signs, blown transformers littered the landscape. Widespread power outages were noted throughout south Clarksville. Initial reports from police and fire crews indicate that at least one twister may have touched down. No injuries were reported at this time.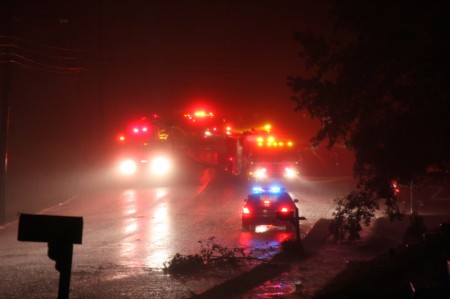 Along Highway 13/48, the fairgrounds pavilion was demolished and its debris effectively relocated across the street by Mother Nature. At Gary Matthews, transformer poles and power lines were blown down and draped over brand new 2008 SUVs. Police cordoned off the road to all but emergency vehicles as they worked close to the fairgrounds section. Red and blue flashing lights brightened the night sky across the area. «Read the rest of this article»