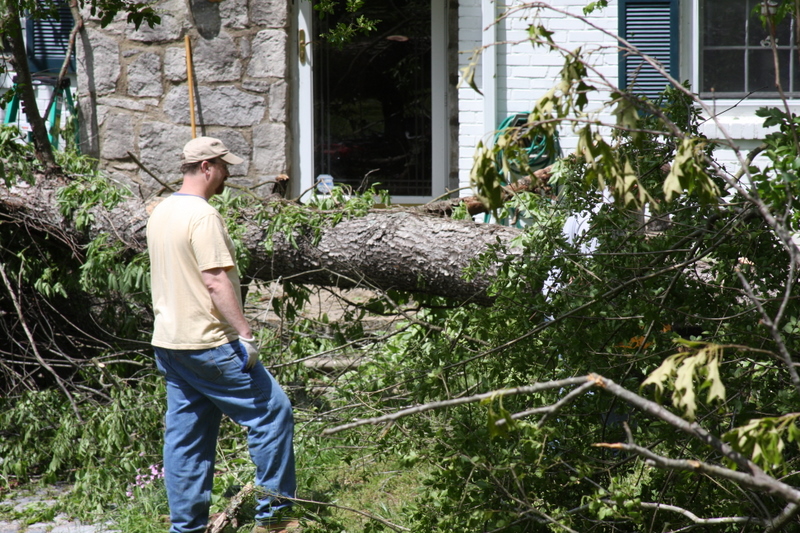 Across the southern half of Montgomery County, the sounds of chain saws, raking, and the groans of aching backs has been the music of the day as residents clean up and clear out debris left behind by the four twisters that touched down shortly after midnight Friday.
Curbside piles of brush, branches, and chunks of chain-sawed trees are piling up with each passing hour.
In an effort to assist residents with the clean-up efforts, the City of Clarksville will pick up yard debris from the recent storms beginning Monday, May 5th. Citizens are asked to put the items that they would like to have picked-up close to the road.
If you have yard debris that you would like to have picked up, or for further information, please call the Clarksville Street Department at 645-7464.
What were they thinking?
As I browsed the 1000+ photos taken by Clarksville Online photographer Bill Larson at Rivers and Spires 2008, I was impressed with the event and the attendance, weather notwithstanding. Still recovering from an illness, I was unable to attend such a big event, but my eyes scanned the images — just about all of them — one by one. In the interests of fair coverage, I included several shots I personally found to be repugnant . (The children are cute; it's the context that's debatable).
Despite my opposition to the Iraq war and my personal distaste for the Bush administration tactics and policies, I have every respect for our military, who are doing what they promised with less than optimal help from our Washington bureaucrats. Our soldiers are the front lines; we wish them no harm and want them back, whole in body and spirit.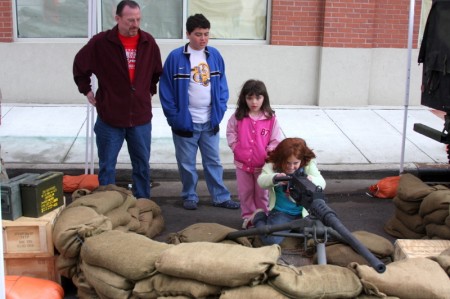 At Rivers and Spires, our troops were amply and ably represented. But it was "too much information" for some of us. I scanned a photo of sandbags, a high powered weapon of some sort (machine gun), and a young child taking aim at the crowd with parent and siblings watching. My stomach turned. Technically it was a great shot. But do we really need to be placing our children's hands on the trigger of such a gun? Another shot, well angled, beautifully lit, shows a small child perched on a tank with the gun barrel from the turret over her shoulder. I flinched, again. Stomach lurched. I didn't have any Pepto Bismol handy. Darn! «Read the rest of this article»