NAACP charges Tennessee Code and Civil Rights violations in Clarksville's proposed redevelopment ordinance.
Jimmy Garland Sr., president of the Clarksville Chapter of the NAACP, has contacted the Justice Department in Washington, D.C., and the HUD (Housing and Urban Development) office in Nashville, charging that the controversial Clarksville Downtown Redevelopment and Urban Renewal Plan does not adhere to Tennessee Codes and will have a detrimental effect on "mostly the poor, elderly and minorities residents of this inner city community." The plan has been highly touted by city officials, Mayor Johnny Piper, and the Downtown Business Partnership (DDP).
Garland further charges that the plan is a possible "civil rights infraction" by the Clarksville City Council. The Council is scheduled to hold a second reading and a final vote on the ordinance Thursday evening during a special session scheduled for 7:30 p.m. in City Council Chambers at 108 Public Square.
"No real plan has been introduced that will define the actual areas to be redeveloped and which properties are actually blighted within the targeted area," Garland said.
Clarksville NAACP President Jimmie Garland Sr. [center] stands with irate property owners outside a "public" hearing on the "blight" bill. «Read the rest of this article»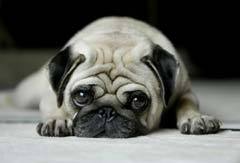 Is it in the U.S. Constitution that "old dogs can't learn new tricks?" Such platitudes were part of our upbringing, but this is one is particularly misleading. My experience with an old dog is teaching me.
Cassie, our healthy 15-year-old Pug, is a supportive companion and she is challenging this ancient and trite platitude. Cassie, even though she has exceeded the age expectancy for her breed, is either an exception or the disproving of the trite saying.
Cassie, in the human equivalent of 105 years of age, is more mentally active than ever. Even in her senior years she is demonstrating an alertness, a "brain receptiveness" to new tricks, many of which are beneficial to the household. She is more effective than ever in communicating her needs to us with a bark, or by sitting in front of us and staring us in the eyes. For 14 years, she never barked except when visitors arrived at our door. Now she barks like clockwork at 10 p.m. or 2 a.m., whenever she need to go out and relieve herself. At this stage, she may have a gland problem that pushes her to more frequent needs to relieve her kidneys. Just like many of us senior citizens. «Read the rest of this article»