A special treat for Mother's Day weekend adventurers!!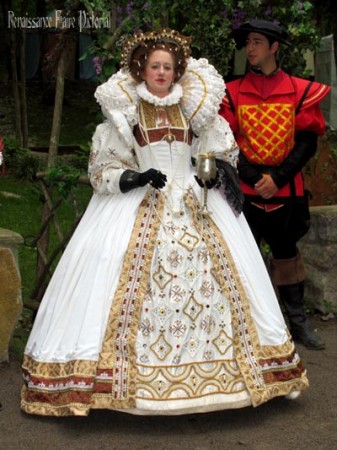 May is Renaissance Fest time in Tennessee! The annual Renaissance Festival in Triune runs every weekend in May. Mother's Day weekend has a special souvenir for the first 500 mothers who attend. Military personnel receive a discounted admission.
Minstrels and characters in costumes, a royal court of lords and ladies, merry maidens and the ever watchful Sheriff and his men looking for that "Axel the Sot" enliven Covington Glen, as Triune is known during the festival's run. There's the Procession of the Royal Court with the King, Queen and attendants promenading through the village – always a colorful happening.
The Merchants' Lane is where village commerce takes place. Clothing for youngsters and adults, steins and goblets, jewelry, oils, gemstones, soaps, family coats of arm, Celtic kilts, footwear and and other merchandise are available. The fair also offers a bounty of succulent foods including the Knight's Club (Roasted Turkey Leg), Soup Bread Bowls, Italian Canoli, Friar's Bread (funnel cakes), roasted pecans, walnuts and almonds — all awaiting your sampling!
Storytellers and minstrel performers populate the banquet halls and taverns with all manner of entertain and trickery to delight all ages. Sprites, faeries and wood nymphs with gossamer wings and other mystical creatures have been spotted in times past. There's even an ogre's den said to be somewhere on the grounds.
Man-powered festival rides, camel and elephant rides and birds of prey displays are also items of entertainment and enlightenment to be found in the shaded realm of Covington Glen. Daily tours of Castle Gwynn, a real 15th century castle are included in the cost of admission. There's are medieval swords and suits of armor displays on the first floor.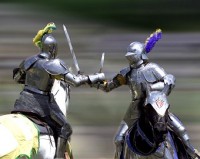 The Living Chess Game is always a lively encounter. This year's jousting will be especially exciting as there will be an International Joust Tournament May 25-26. Pageantry aplenty for all to see!!
RenFest is slightly more than an hour's drive from Clarksville, going past Nashville and Cool Springs Galleria to Franklin, TN. For more information, go to <www.tnrenfest.com> or Phone (615) 395-9950
(Photos by Chip Curley at <www.pbase.com/deadelvis/renfest>