Property Rights group faces $500,000 libel suit
Controversial development plan under fire
Councilor Richard Swift, DDP member Wayne Wilkinson claim harm to public image and integrity
Is this a SLAPP suit?
CPRC will "vigorously defend" against "frivolous" suit
Another punch has been thrown in the ongoing battle between the Clarksville Property Rights Coalition and both city officials and the Downtown District Partnership: the CPRC has been slapped with a lawsuit over a dissenting advertisement on the issue of redevelopment.
The suit was filed by Wilkinson and Swift on Friday in the 19th Judicial District, Circuit Court of Montgomery County against the CPRC as an organization and, Pam Vandeveer, individually as CPRC treasurer. You can read the complete text of the lawsuit here at Clarksville Online.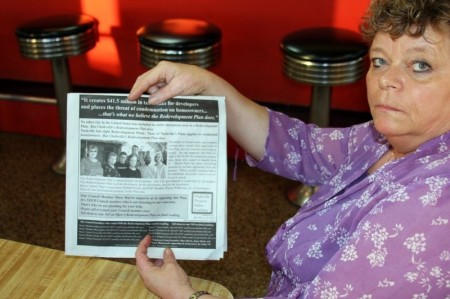 CCRP member Joyce Vanderbilt with the CPRC ad
At issue is the veracity of an ad which ran in the Leaf Chronicle on May 3, prior to the May 8 City Council special session at which the final reading and approval of the highly controversial Downtown Redevelopment and Urban Renewal Plan occurred. The ad stated that Clarksville Mayor Johnny Piper, Councilman Richard Swift and DDP member Wayne Wilkinson as developers who worked for passage of the comprehensive redevelopment plan that would cover roughly two square miles of down town Clarksville and which designated the area as blighted.
The lawsuit charges that the CPRC ad made "libelous" statements against plaintiffs Wilkinson and Swift when the CPRC ad implied that [the plaintiffs] placed their "development interests" above the wishes of the community and their constituency. «Read the rest of this article»
Knowledge is power, and empowerment is the goal of the first Women's Health and Wellness Expo.
Free medical screenings. Free dental check-ups. Free eye/vision screenings. Nutrition and fitness information. Classes on marriage, self-esteem, and self-image. It's all included in a single program being offered to the women of our community during a unique and absolutely free conference coming up on May 31.
This Women's Health and Wellness fair is a Community Enhancement event sponsored by the Hispanic Organization for Progress and Education [H.O.P.E.]. It will be held on May 31 from 10 a.m. to 4 p.m. at the Riverview Inn in downtown Clarksville. The event is free and offered as a community service.
Dr. Joy Twillie, a graduate of John Hopkins University will be the guest speaker on issues including Marriage and Self-esteem. Representatives from Centerstone will be available to discuss services they offer the community. «Read the rest of this article»