Guests regaled as local couple's anniversary and birthday celebration advances to new level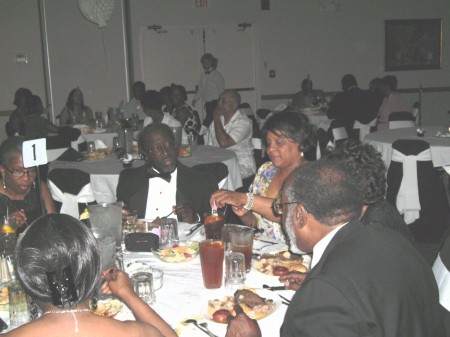 May 16th and 17th marked the fifth anniversary of Family Properties' Black Tie Dinner Dance. The annual combination celebration highlights the wedding anniversary of Doris and James Witherspoon and James' birthday. What distinguishes this celebration is that the feted couple actually produce the annual weekend-long celebration, staging the affair and entertainment. The two-day gala features two sumptuous sit-down dinners and live entertainment provided by The Blues Doctor- "Dr. J. W. Feelgood" and the BCOL (Better Choice Of Living) Band. «Read the rest of this article»
New location yields soft comfort, welcoming ambiance and truly scrumptious home cooking!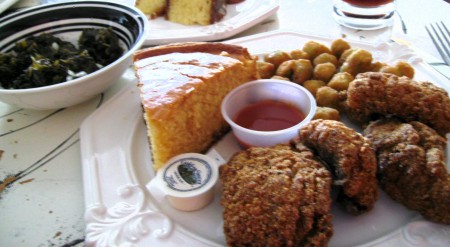 Johnnie Mae's Soul Food has settled in to it's new location at 1630 Fort Campbell Blvd. With recipes learned at the hands of her grandmother in Tuskegee, Alabama, Odessa Fouse has created a welcoming cozy atmosphere with a warm, eclectic decor that feels, at once, at home and softly elegant. A hearty welcome greets each visitor.
Those who are familiar with the previous location on Fort Campbell Blvd near the Ringgold Road Post Office will be delighted to know that the menu remains unchanged and the quality of the food is also staunchly intact. These family recipes are prepared with care and reverence to Johnnie Mae's exacting standards. No pork seasoning or lard is used. Vegetable oil, herbs and spices and Johnnie Mae's instilled sense of 'something special' grace each offering with mouthwatering delight. «Read the rest of this article»
Interest Group Meets with Children's Defense Fund Staffers. See meeting as a call to end adult hypocrisy, neglect and abandonment of children and America's Cradle to Prison Pipeline Crisis.
A lively group discussion among Clarksville citizens marked a meeting with organizational training representatives of the Children's Defense Fund. Lissa McCloud, CDF Tennessee Organizing Director, led the gathering. She and Elandria Williams of the Highlander Research and Education Center are crossing the state to meet with local groups. Their mission: to gauge communities' perception of and desire to address the glaring disparity in minority male youth who fail to complete high school and are subsequently being fed into the prison and judicial system. «Read the rest of this article»
Sponsors sought for Drum and Bugle Corps Ensemble internship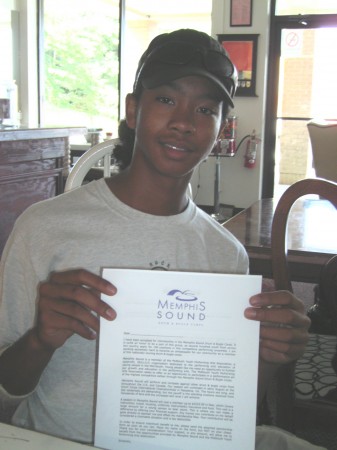 Jason Van Hodge is feeling pretty good about himself. The Kenwood High School student has been accepted for membership in the Memphis Sound Drum and Bugle Corps 2008 Summer Internship. He was selected from several hundred youth across the country for one of only 100 positions in this competitive performing ensemble. As a member of the Memphis Sound Drum and Bugle Corps he will serve as an ambassador for our community in this nationally touring ensemble.
The Memphis Sound Drum and Bugle Corps is a member of the Mid-South Youth Performing Arts Association, a 501(C)3 non-profit organization dedicated to the performing arts education of young people in the Mid-South. The mission of the Memphis Sound Drum & Bugle Corps is to release the full potential of today's youth by promoting self-awareness, acceptance, respect, dedication, and teamwork through the participation in the competitive marching arts. «Read the rest of this article»