The City Council Finance Committee Tuesday rejected Ward 10 Councilor Jim Doyle's request for $80,000 in municipal appropriations to assist the local Red Cross in acquiring an emergency response vehicle. The Red Cross ERV and all of its equipment was burned to rubble by an arsonist, and insurance on that older vehicle fell far short of replacement value.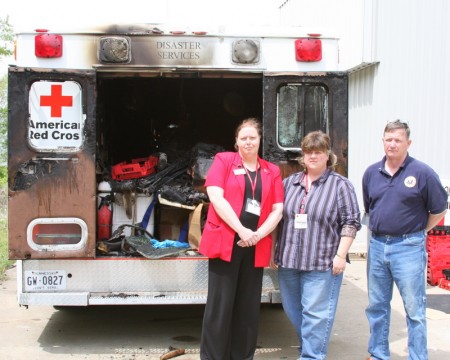 Red Cross Executive Director Linda McCoy, Health and Safety Director Patricia Brown, and Emergency Services Director Cecil Stout stand before the charred ruin of the emergency response vehicle.
Since the rejection of the request must still come before the council in executive session, tonight Red Cross Executive Director Linda McCoy, Emergency Response Director Cecil Stout, and Logistics expert Mike Vogt will offer a presentation to councilors on the need for this vehicle and the impact its loss has had on the agency's ability to effectively respond in its service area.
"My hope is that the council will listen [to the Red Cross] and vote to approve this measure," Doyle said. "I am asking the council to approve $80,000 for the acquisition of an [emergency response vehicle]."
Doyle also intends to ask the county government for assistance in acquiring this vehicle, but was not optimistic since the "county is in worse shape than we are."
In the interim, dozens of Red Cross volunteers have stocked their own vehicles with supplies needed to respond to emergencies of all kinds across Montgomery, Houston, Stewart counties, Fort Campbell and the Land Between the Lakes area. Red Cross volunteers pay their own gas expenses in addition to their their generous donation of time when disaster strikes.
The charred interior of the Red Cross ERV
The need for the vehicle was brought home several weeks ago when four tornadoes hit the Clarksville area at midnight, cutting power to a larger part of the city including the Red Cross office. Staff and volunteers fumbled in the dark for enough additional supplies to stock their cars and get the scenes of disaster. Nonetheless, these dedicated volunteers managed to provide more than 100 meals by morning, and rallied to provide services to storm victims. Perhaps the most striking statistic from the recent storm response was a staggering 4,248 volunteer (as in no pay) hours and a breathtaking 13,600 miles of travel (at $3.00 plus a gallon for gas, primarily donated by the volunteers service volunteers for their own vehicles).
As an example of what the Red Cross provides, in the aftermath of the May 5 tornado outbreak, the Red Cross
was requested by EMA to staff the EOC and prepare for Mass Care/Sheltering operation in the Indian Mounds area of Montgomery County. (Woodland Fire Station as temp shelter).
"We activated Gov Liaison Glenda Brown and activated DAT #1 Mike Vogt with three members, deploying with DRV with tarps and food. Staffing of essential personnel was started. At 21:00 Houston County EMA requested Mass Care/Sheltering operations for the Dansville area of Houston County. ( Southernair motel as temporary shelter). We deployed Houston County DAT Stephanie White with two members and county DRV with food and tarps. This was the commencement of our activities for the next few days. We would continue operations for the next 18 days in one form or another." — Cecil Stout
Stout provided the following fact and figures of the Red Cross accomplishments:
Performed Disaster Assessments for 154 effected residents in a three county area.
Opened 13 cases providing financial assistance to 31 individuals.
Provided basic first aid for 11 individuals.
Visited three individuals at hospital.
Provided mental health assistance for 4 individuals.
Preformed Welfare Inquiries for three special needs persons.
Registered 27 individuals on Safe and Well, Web based locater service.
Referred 53 families to other agencies for assistance (to include local and FEMA).
Provided 2 sessions where 34 individual volunteers were trained for this response.
Recruited 59 volunteers who served locally.
Deployed one DSHR volunteer to serve at the national level.
Accounted for 4248 volunteer hours in 18 days of operations.
Operated four mobile feeding units.
Traveled 13600 miles of authorized travel.
Served 4250 meals or snacks, 5230 bottles of water and 720 cups of coffee.Distributed 70 tarps, 37 comfort and 4 clean-up kits to those in need.
Opened two temporary (trailers) service centers.Committed $10,418.00 in relief funds.
The council meets in executive session this afternoon at 4:30 in the city hall conference room at Public Square.