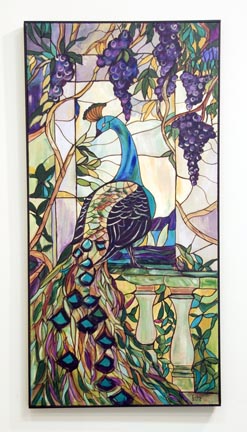 Do you like your art in bunches like grapes? If you do, then the Downtown Artists Co-op (DAC), located at 96 Franklin St. in downtown Clarksville is the place to be this Thursday, June 5th, from 5 – 8 p.m.
The Seventh Annual DAC Membership Exhibit opens at that time with "bunches" of art from many of the area's most accomplished artists. This will be an excellent opportunity to enjoy food and drink at the DAC opening reception, mingle with fellow art lovers and talk with many of the artists who will be present.
At left, The Peacock, a48x30 inch oil on canvas by Betty Liles (copyright protected) is one of the featured works in this exhibit.
The Downtown Artists Co-op is proud to claim many of the area's best know artists as members. Several of these members have earned recognition on the state, regional and national level. Some are members of the Tennessee Art League and/or The Tennessee Watercolor Society. At least two DAC members are spouses of soldiers.
Twenty of these DAC artists will be exhibiting more than 40 of their current works of all types of painting, mixed media, photography and collage.
Artists participating in the 7th Annual DAC Membership Exhibit include new members Reisa Peters, Melanie Dennis, and Judy Lewis, and existing members Billy Renkl; Susan Bryant; Monica Quattrochio; Barbara Beach Seip; Gail Meyer; Becky Keene; Cyndi McGrail; Becky Hall; Betty Liles; Mark Griggs; Nada Fuqua; Beverly Parker; Connie Livingston-Dunn; Claudia Balthrop; Cliff Whittaker; Maijaliisa Burkert; and Doug Halloran.
This exhibit will open on June 5th and run through July 12th. Normal gallery hours are noon – 6:00 p.m. Wednesday through Saturday. Visitors are welcome and there is no admission fee. For more information you may call the gallery at (931)552-4747 or call Cliff Whittaker at (931)980-2041.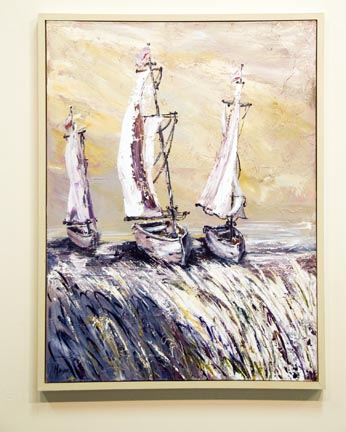 Wind Behind Our Sails – acrylic on canvas by Gail Meyer
(copyright protected).
"Stories make us sane. I feel less crazy when I understand something about people. I'm not about news analysis but connection to people."
— Ira Glass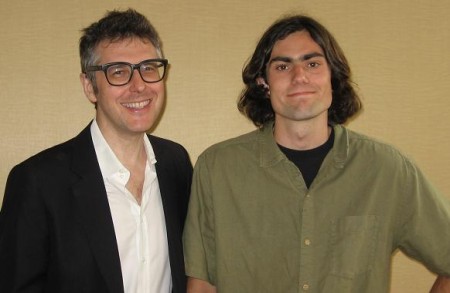 We had tickets to see radio personality, Ira Glass, in Nashville on May 31st. I expected to see a man with red to blonde hair, freckles, pimples and a general non-threatening appearance; otherwise, how would all those people talk to him, tell him their inner-most thoughts and stories?
When my son Randall (seen here with Ira Glass) said, "And there's Ira Glass crossing the road," I was shocked. Dark hair, skinny and tall; not the mouse I had pictured. I am used to seeing people who have empathy as chubby. In my experience, if you get mixed up with caring about others, your body has to put on weight to give you some distance from people, some of your own "space" from giving others too much. «Read the rest of this article»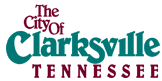 The Eighth Annual TWRA and City of Clarksville Youth Fishing Rodeo will be held at the Fairgrounds Park pond on Saturday, June 7. This event is free and open to the public, and does not require a fishing license. Pre-registration forms are available at most sporting goods stores in the area. Registration starts at 7:15 a.m. The pond gets crowded quick so come early to claim your spot. The first round of fishing starts at 8:00 a.m. and lasts until 9:00 a.m. for ages 9 and under. Ages 10 to 16 get to fish from 9:30 to 11:00 a.m.
The Clarksville Parks and Recreation Department Summer Youth Program begins June 9 with the opening of gymnasiums and the program ends on July 17. The Summer Youth Program is a fun day-camp offered to children ages 6-16 for six weeks each summer. Gyms are staffed with Directors and Assistants five days a week starting June 9 through July 17 to offer leadership and assistance in play activities and free lessons in dance and karate. «Read the rest of this article»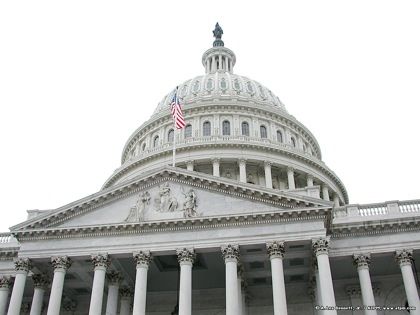 Reading the daily papers, including USA Today, is one of my daily rituals. The locals inform me of currents events and abbreviated versions of national and international news. My goal of perusing these papers prepares me to intelligently join in discussions among retirees while exercising at the Athletic Club.
I was recently shocked by a headline that read Federal Funding Changes Hit DCS. As I read each paragraph of this story, I got more and upset that our needy children will be tortured emotionally by budget cuts that precipitate the loss of 160 employees of the Department of Children and Youth Services. A budget cut by the federal government, namely the Bush administration, of $73 million dollars in unconscionable.
Governor Bredesen described this financial tragedy as "visible and painful kinds of cuts" and said budget cuts will have to be made in other areas "to keep the case management system intact."
Our values are distorted: the pressing needs of our children must be given priority. «Read the rest of this article»