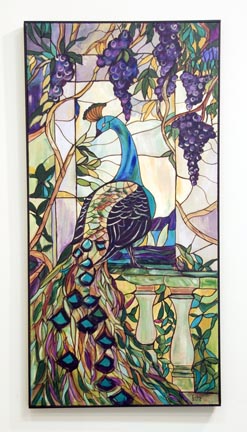 Do you like your art in bunches like grapes? If you do, then the Downtown Artists Co-op (DAC), located at 96 Franklin St. in downtown Clarksville is the place to be this Thursday, June 5th, from 5 – 8 p.m.
The Seventh Annual DAC Membership Exhibit opens at that time with "bunches" of art from many of the area's most accomplished artists. This will be an excellent opportunity to enjoy food and drink at the DAC opening reception, mingle with fellow art lovers and talk with many of the artists who will be present.
At left, The Peacock, a48x30 inch oil on canvas by Betty Liles (copyright protected) is one of the featured works in this exhibit.
The Downtown Artists Co-op is proud to claim many of the area's best know artists as members. Several of these members have earned recognition on the state, regional and national level. Some are members of the Tennessee Art League and/or The Tennessee Watercolor Society. At least two DAC members are spouses of soldiers.
Twenty of these DAC artists will be exhibiting more than 40 of their current works of all types of painting, mixed media, photography and collage.
Artists participating in the 7th Annual DAC Membership Exhibit include new members Reisa Peters, Melanie Dennis, and Judy Lewis, and existing members Billy Renkl; Susan Bryant; Monica Quattrochio; Barbara Beach Seip; Gail Meyer; Becky Keene; Cyndi McGrail; Becky Hall; Betty Liles; Mark Griggs; Nada Fuqua; Beverly Parker; Connie Livingston-Dunn; Claudia Balthrop; Cliff Whittaker; Maijaliisa Burkert; and Doug Halloran.
This exhibit will open on June 5th and run through July 12th. Normal gallery hours are noon – 6:00 p.m. Wednesday through Saturday. Visitors are welcome and there is no admission fee. For more information you may call the gallery at (931)552-4747 or call Cliff Whittaker at (931)980-2041.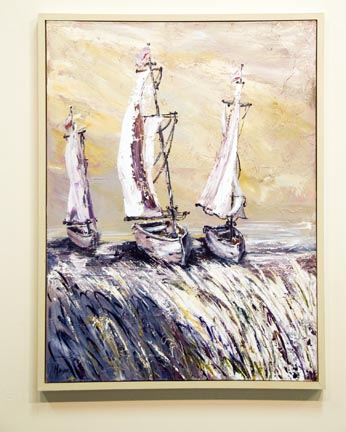 Wind Behind Our Sails – acrylic on canvas by Gail Meyer
(copyright protected).