"Stories make us sane. I feel less crazy when I understand something about people. I'm not about news analysis but connection to people."
— Ira Glass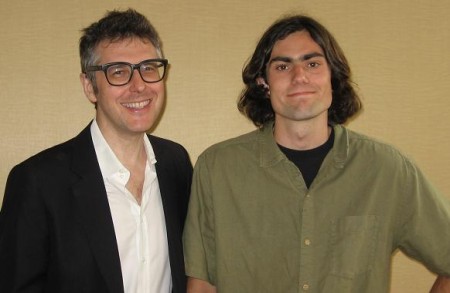 We had tickets to see radio personality, Ira Glass, in Nashville on May 31st. I expected to see a man with red to blonde hair, freckles, pimples and a general non-threatening appearance; otherwise, how would all those people talk to him, tell him their inner-most thoughts and stories?
When my son Randall (seen here with Ira Glass) said, "And there's Ira Glass crossing the road," I was shocked. Dark hair, skinny and tall; not the mouse I had pictured. I am used to seeing people who have empathy as chubby. In my experience, if you get mixed up with caring about others, your body has to put on weight to give you some distance from people, some of your own "space" from giving others too much.
When we met Ira Glass in person I said, "Can I take your picture with this shy young man (my son)?"
Yes, he said and he crossed the distance to Randall, shook his hand and introduced himself. Randall said he was a big fan and Ira asked him what he does (go to college), what is he studying (psychology), and Ira told him that his Mom is a psychologist and she takes credit for everything that Ira does. We laughed. Randall did not expect this celebrity to be interested in Randall. Ira's voice in real life is exactly as it is on the radio. His eyes match my imaginings of him. They are not hard eyes. Ira is true to his radio personality; he is searching the world for a story, a human story.
Ira told the Nashville crowd of 1,500 that when he moved to Chicago he heard that within a week there were 16 people struck by lighting. The news reported who, what, where and actually ran a story about how NOT to get hit by lightning. But Ira's curiosity led him to search out these people and ask their stories. All of them (who lived, only one died) had saved souvenirs from the event. Their coins turned black. One woman's hot dog she was holding got charred. One person talked about getting an instant perm. They all had a burnt mark on their bodies and they all felt as if it happened for a reason. Non-believers and believers alike thought that God was telling them something. "Be alert?" asked Ira.
During the 30 years that Ira has worked in public radio, mostly editing and interning, he realized the value of personal stories on the radio sighting Prairie Home Companion as a good example. While talking to us Ira used background music (just like on the radio). He said "Using music creates a flow; when the music stops, the next thing said takes on a lot of importance. Talk in the music where you can image that you would sing: there, there, there." He pointed out over the music.
Regular news makes a know-it-all performance, said Ira. There is no sense of discovery, awe, questioning or thinking. News tells you to "eat your broccoli, because it's good for you." It's a tone that has no happiness in it.  Ira's show, This American Life, features stories of people, where journalism with pleasant discoveries throughout asserts that we live in a world where there's joy, discovery and fun.  And hope.
Ira shared how he makes a good story.
1. Tell the sequence. One thing leads to another. A lot of the stories on This American Life are not sensational stories, but they are told from the heart. They are the truth. The person talks about what he was thinking, like the office guy, with his glasses off, who thought he was acting funny with a familiar co-worker only to see that he was joking with a woman he didn't know, who was a midget. The embarrassment he felt caused him to never speak to her again.
Forget the topic sentence, says Ira. We were always taught to say what we are going to say and then say it. Jump into the story by telling it. Use dialogue during the story.
2. Stories get the listener in. Now lead into points or thoughts about the story. These are different than morals. Morals are pushy prescriptions. Points or thoughts are not conclusive, they produce thought. Anecdote, thought. Anecdote, thought.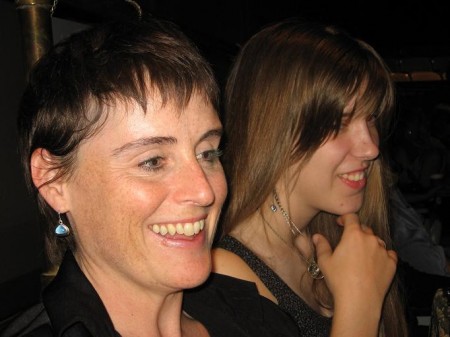 Leslie Wilson-Langsdon and Tara Shumate
Leslie Wilson-Langsdon listens to Ira's show every week on her Ipod. She said the show makes her feel like she's spying on people's lives. As Ira narrates the stories with his thoughts, He says what I'm thinking, said Leslie.
The stories on This American Life take us into dark places as well as humorous places. Ira told us about the soldier who was ambushed in Iraq after trusting an Iraqi woman. Back in the United States he found that he could not be around Muslims without mistrusting them. He shared his honest thoughts and prejudices about Muslims.  The story takes a turn as he came to the idea that he was the one with a problem and it was based in fear. He faced his fear head-on by joining a Muslim club. He went from clenched and sweaty palms on the desk to finding friends and eventually doing speaking engagements for the club.
These stories make a real person out of someone who was a number or statistic before.  We relate, we understand, we connect.
I saw that Ira is very interested in what's going on with others and he stays in touch with himself the whole time. Thus his honest thoughts are such a big part of the program. While speaking to us he said, "I'm blushing right now and I don't even know why." He demonstrates neutrality to others' vulnerabilities and to his own. I think this honesty is something we crave, those old and young of us alike who flocked to this event.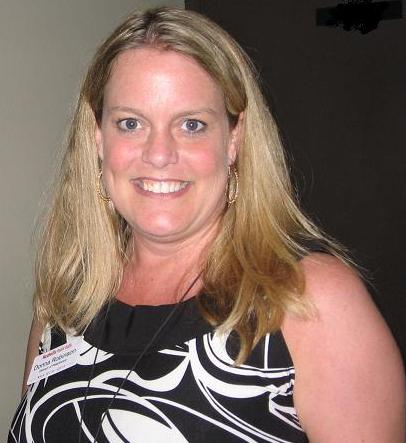 Ira said he is not out to make fun of people; that lessens our feelings for them. He gets people to tell their stories so that we relate to them. Radio is the perfect medium. If we were to see the people, he feels certain we would not "like" them as much. Radio bypasses our judgments about appearances.
This Amercian Life airs weekly on Sunday at 6 p.m. on Nashville Public Radio, 90.3 FM.
Nashville Public Radio Director of Philanthropy, Donna Robinson (at right) greeted the public and was one of the sponsors who worked with Shameless Productions to bring Ira Glass to Nashville. Donna is working on getting Garrison Keillor back to Nashville. Shameless Productions is bringing, NPR contributor, David Sedaris, author of When You are Engulfed in Flames, to Nashville on October 17th.
Photos by Debbie Boen