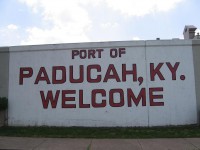 Daytrips and Weekenders. As the summer months and the vacation/travel season approaches, we offer you, our readers, ideas for day trips and weekend excursions to places and events that can be done in a day, or maxed out over a weekend. Time and the high cost of gas fuel our efforts to find local entertainment and activities. This column will appear each Thursday through Labor Day.
Paducah, Kentucky, is about a two hour drive from Clarksville. The town rests on the Ohio River where it is joined by the Tennessee River. Its prestigious past speaks out in the ornately designed houses and buildings.
Except for the great flood in 1937 where 95% of the city was flooded, this town prospered on the edge of the world's greatest highway — the river, and had a flair for wealth and diversity. Trains later replaced river travel for goods; semis replaced trains. But since the 1900's, barges carry goods up and down the river once again. One barge carries as much as 23 railroad cars.
Paulette Mentor is ready to do some work in her art room/gallery. Her house is a perfect example of creativity in re-design of a gallery house. — Debbie Boen photo

If you throw enough money at it, you can do anything, says Carol Gabany about Paducah's Downtown revival. The Paducah bank has been throwing money at artists offering 300% loans to buy up old rundown houses, fix them up, and open art galleries throughout the downtown area. Esteemed artists from all over the US have been drawn to this exceptional deal in Paducah. «Read the rest of this article»
On Wednesday evening Clarksville Online took a first hand look at the clearing of Mericourt Park off Pageant Lane, where decades old trees have been cut down, an action that caught many city residents unaware. The action has triggered a mix of outrage and unanswered questions. Ward 10 City Councilor Bill Summers has responded to the issue of extensive tree-cutting at Mericourt Park via e-mail through the City Council's email service. These are his comments on this controversial issue: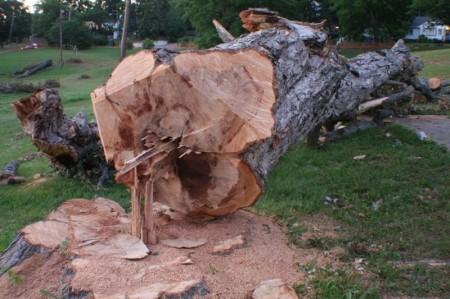 There has been interest about the new softball fields that are being constructed at Mericourt Park, which is located by Moore Elementary School. I believe I have some information and insight that I can share through years of direct experience with these softball fields and from being a member of the Parent Information Network (PIN). [Wednesday night] PIN, as usual, attended the school board meeting. The improvements at Mericourt Park were brought up, but some data and information was not mentioned and PIN asked for additional information. PIN has received this additional information and sent it out through its email network. [I am sending that same info through my council network. «Read the rest of this article»