Develop a new skill, explore a new idea, learn a new language or seek a new career with a class from Austin Peay State University's Center for Extended and Distance Education. Register early and receive a 10 percent discount on selected courses. A senior citizen discount is also available on selected courses. Only one discount can be applied per registration. Preregistration is required for each course.
A Woman's Journey to Financial Independence will meet from 6–9 p.m., Tuesday, June 17 in APSU's Claxton Building, Room 116. (course $28, supply $5)
Computer software applications: MS Access Basics will meet from 6–8 p.m., Mondays and Wednesdays, June 2–16 at 106 Public Square, Clarksville. (course $122, lab $5, text $34) «Read the rest of this article»
Research by an Austin Peay State University biology professor could help to manufacture hydrogen more efficiently for use as a biofuel in vehicles – and become part of a solution to the current fuel crisis.

Dr. Sergei Markov, assistant professor of biology, has developed a prototype bioreactor that uses the purple bacterium Rubrivivax gelatinosus to produce enough hydrogen to power a small motor. He recently presented a paper, titled "Hydrogen production by purple nonsulfur bacterium in a bioreactor," at the 108th General Meeting of the American Society for Microbiology in Boston.
As a result, his work, initially supported by grant funding from the U.S. Department of Energy, has appeared in a dozen of publications on the Internet, including Science Daily, and on several foreign news Web sites. «Read the rest of this article»
Cautionary words on climate from a May 1 statement by George Woodwell, the founder and Director Emeritus of The Woods Hole Research Center.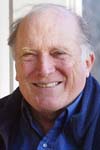 I explore below paths that might, if followed, lead out of the chaos of an open-ended climatic disruption. Unfortunately the issues are complicated, the time for action is now late, and effective action is growing more difficult daily. Effective action is possible, however….
The changes in climate are far more serious than they may appear…. These changes, the warming of the higher latitudes, the destruction of forests, the accelerated decay of organic matter in forests and tundra soils, the melting of permafrost, the change from a reflective frozen white to black open water in the Arctic Ocean, and the warming of the surface water of the oceans all point to an acceleration of the warming trend. These are "positive feedbacks" which dominate as the earth warms and accelerate the disruption. Despite their importance, they have not been included in appraisals that suggest that a two degree average change in the temperature of the earth might be acceptable. The fact is that the feedbacks will almost certainly take the disruption beyond human control well before the temperature rise is two degrees C. Stopping at 2 degrees will not be possible. «Read the rest of this article»
Austin Peay State University has hired a new administrator to oversee the planning of campus facilities.
Al Westerman has been named the new director of facilities, projects and planning. He began his new duties June 2. His position is part of the University's Office of Finance and Administration.
Westerman came to APSU following a six-year career as CEO and senior project manager for FM&C Co. He was a longtime employee of Fluor Corp. From 1991-2002, he served as the company's facility and project engineer and later became project manager and planner. He also was a member of the facility safety team that won the highly coveted OSHA VPP Award for 10 million safe work hours. «Read the rest of this article»