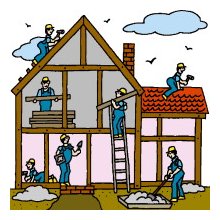 As a homeowner, one of my stresses is just when a repair is needed and who to call to make that repair. The tornado-like winds we have here regularly remove shingles from roofs, or a wire is damaged. Electrician? Carpenter? Both? Over the last five years I have developed a list of contractors whom I think are honest and skilled. There are companies and individuals who have dome work for me in the past and in whom I have confidence.
Last year I got "burned" by a person who professed to be a capable contractor. He adroitly gained my confidence on a small job before cheating me out of a significant amount of money. To prevent such a pique for Clarksville Online readers, I'll offer some guidelines for hiring a contractor. Money Advisor [Apr '08, p3] covers the subject comprehensively in a half page. Household repairs are stressful and costly, more so is the contractor is incompetent or unscrupulous. There are guideline to reduce the tension.
A popular song that goes "happy days are here again…" came to mind when we chose a competent contractor. For any job, seek several bids, and don't select a contractor just because of a low estimate on the cost of your project. Surveys indicate that people who hire the lowest bidder get a poorer quality of work. Have a written contract that includes the scope of the job, materials and products to be used, labor costs and a timetable. You may wanted to include a down payment, but withhold the balance until the job is completed and a "punch list" of checks and balances" has been approved. Such a contract will let you sleep better at night.
Pinpointing a trustworthy contractor can be as easy as seeking the advice of good friends and neighbors, who will happily pass on the name of those with whom doing business has been a pleasure. For instance, we have a goal of improving our house with hardwood floors. There are dozens of flooring contractors in our community. Who would I choose? My first choice is a team of contractors that did a job for my friends in Sango. I respect their judgment and they gave [contractor] an outstanding rating. Six months later they are still satisfied. Before repairs are contracted, check with those neighbors and friends.
Verify the credentials and ask for local references. Such cautionary guidelines are acceptable business practices. Be aware that a business card stating what a person does or what license he holds doesn't make it so. The young man who cheated me had such a card. Though it can be a hassle, check with the Better Business Bureau, the local or state consumer advocacy agencies, or the state Attorney General's office. Before contracting with a contractor for lawn care to include an irrigation system, shrubbery, sod and trees, I asked for references. He lived up to his reputation as reported by my neighbor.
The next guideline I had never heard before: "Ask the contractor and supplier to give you a lien release or waiver to make sure you don't end up with a lien on your property." Have this written into the contract; a lien will precipitate legal problems you don't need and will cost dearly.
In my situation with my trusty landscaper, I paid in increments for work as it was completed to my satisfaction. Contractors may need cash before starting a job. How much is reasonable? Money Advisor recommends that you follow this counsel: 30% in advance upon initial delivery of products or materials.
This information , instruction and counsel will protect you and give you confidence in hiring a contractor, and can be applied to such things as auto and appliance repair as well.