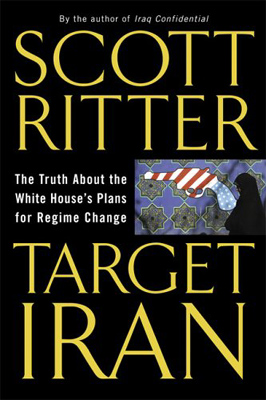 It's happening in Louisville, Kentucky, but it would be worth the travel from Clarksville to join former UN weapons inspector Scott Ritter and special guests Lizzie West & Baba Buffalo for a lively discussion about the "War on Terror" with Iran in the crosshairs. Ritter will speak at The Clifton Center, 2117 Payne St. in Louisville on Thursday June 26th, 7:30pm. The subject: how to deal with Iran.
In an interview with Amy Goodman on April 28, Ritter stated:
"There is no doubt in my mind that the US is planning right now, as we speak, a military strike against Iran." Ritter warns that such an attack is unnecessary, and if launched, could provoke a massive response with catastrophic consequences to millions of people, including Americans.
"The most important thing to know about Scott Ritter is that he was right." — Seymour Hersh
Ritter famously and accurately argued in 2002 that Iraq no longer had WMD when he spoke in Louisville that year. He now recommends diplomatic engagement with Iran, and supports local and national efforts to pass resolutions urging President Bush to refrain from ordering any military attack against Iran without explicit Congressional authorization.
Ritter, the author Target Iran, Waging Peace and Iraq Confidential, was one of UNSCOM's most senior weapons inspectors in Iraq between 1991 and 1998, after having served for eight years as an intelligence officer in the U.S. Marine Corps. As a Marine, he conducted arms inspections in the former Soviet Union, and provided analysis of Iraq's missile capacity to General Schwarzkopf in the 1991 Gulf War.
Lizzie West & Baba Buffalo, whose "19 Miles to Baghdad" is played frequently on Democracy Now!, will be performing songs from their upcoming album, The Tumbleweed Cabaret (Dream #1), slated for August 2008 release. They are co-founders of Holy Road Tours Union (HRTU), a progressive arts cooperative.
Tickets are $10 in advance, and $15 at the door. For tickets & more info, go to http:www.realintelligence.org or call 310-842-8794.This event is sponsored by The Louisville Peace Action Community (LPAC) of Louisville, Kentucky.