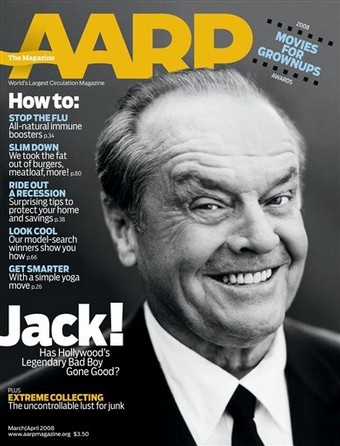 AARP (American Association of retired Persons) is a national organization dedicated to enhancing the quality of life for senior citizens. Clarksville has a dynamic AARP chapter where an enthusiastic groups of people age 50 and meet socially and serve the community with a variety of social actions.
AARP is political but non-partisan, and wields considerable influence on state and federal legislation, serving as the voice of their demographics. They do so without endorsing specific candidates and they remain issue oriented.
To educate and inform their membership. AARP publishes a monthly magazine with the largest circulation in America. the March/April edition got my attention with the cover photo of a smiling Jack Nicholson, one of the outstanding actors of our generation.
Besides an insightful article on him, the magazine from cover to cover offers articles with practical information. Two articles in particular that apply to many of us involve dealing with stress: "Riding Out a Recession" and "Finding Faith" (a search for spiritual peace). «Read the rest of this article»
With an eye to the 2008 presidential election and primary elections coming up in August, Chairman Gene Lewis issued a reminder that the Montgomery County Democratic Party will hold their monthly meeting at on Tuesday, June 24, at 7 p.m. at the Smith-Trahern Mansion on McClure Street in downtown Clarksville. Party members are encouraged to attend and "bring a friend." For more imnformation on the MCDP, contact Gene Lewis at .
Clarksville for Obama, which is a separate organization specifically designed to support the presidential candidacy of Sen. Barrack Obama, meets weekly on Thursday at 7 p.m. at the New York Pizza Depot Restaurant at 3247 Fort Campbell Boulevard (across from Fort Campbell's gate 3 in North Clarksville. For more information, contact Clarksville for Obama, Interim Chairperson Terry McMoore, at .
https://www.youtube.com/watch?v=ylVTBiGh00c
* Obama video included by Clarksville Online staff for editorial purposes and is not a paid campaign advertisement.