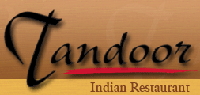 Cumin. Coriander. Tumeric. Cardamon. Red fennel. Red chilies. Clove. Tamarind. The essential spices of Indian Cuisine. Tandoor, the essence of cuisine from India, is returning to Clarksville with a grand opening slated for July 1 at a new location in Hampton Plaza at 2868 Wilma Rudolph Boulevard. Tandoor was considered to be one of the most romantic dining spots in the city, and owner Nasir Hakeem plans to keep the romance in the new location.
The original Tandoor was destroyed by fire In November, 2008, but Nasir stated then that he intended to rebuild. That's happening, but at a new location. Some items for the original location were saved: the ornate hand-carved screen from India you see as you enter the restaurant is just one example.
The new Tandoor is very similar to the former dining spot. Sweep aside a soft straw curtain and customers can tuck themselves into six booths with traditional floor seating, accented by colorfully embroidered pillows in satins, silks and cotton. Another four booths offer conventional seating, and center tables accommodate still more diners. The walls are colored a gentle peach, warm and inviting. Cut clay lamps diffuse the lighting for a soft but exotic effect. Wall hangings include small mirrored tiles, hand-carved wall pieces, and paintings. The restaurant can seat up to 80 people. «Read the rest of this article»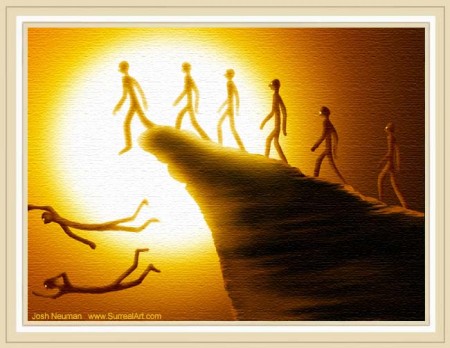 On the Road in America is an occasional and serendipitous column about people, places and observations, with publishing predicated on the random availability of internet access or lack thereof.
Being On the Road in America can sometimes be a bore.
Oh, there's a great deal of beauty to be seen, from the Green Mountains of Vermont to the rolling farmlands across Ohio, from the rugged Rockies and the dramatic coastline of California's 17-mile drive. That's not the issue.
As implied in Josh Neuman's Lemmings (right) ,what is troubling is the growing lack of identity, of uniqueness, of individuality, as one moves from state to state. North, south, east or west makes not a whit of difference. Commerce in America is cloning itself at breakneck pace, mass-producing blueprints for hotels, motels, box stores, shopping malls and restaurants that increasingly lack a sense of their own identity and certainly have no ties to community heritage or culture.
I'm on the road again, as Willie Nelson would sing, and I am heading for one of the few bastions of non-traditional development — via the central midwest to the rural northeast, home of green mountains, clothing optional backwoods beaches, interstate bike paths, and those perpetual golden arches relegated to the outermost borders of some cities. «Read the rest of this article»