'On the Road in America' is an occasional column of meanderings and musings, written during my semi-annual sojourn north.
After the first bursts of near tropical heat in Clarksville, the cooling summer rain in Vermont is a gift to cherish. It began last night, after a day of haze and clouds. It ushered in coolness somewhere around sunset, and by nightfall I could hear the raindrops lightly kissing the brick sidewalks, dripping lightly from the eaves. No blustering wind, no storms. Just that gentle rain.
This morning I walked by a bank of peonies, damp and brightened by that rain, slightly bent by the weight of water. The temptation to pick a few stems was strong.
We are a large group this semester at Goddard College, writers all of poetry, prose, fiction and non, memoir, plays and screenplays, even graphic novels. Unlike other residencies here, this one — by its very nature as an MFA writing program — requires a certain amount of solitude in and around such activities as workshops, advisor sessions, seminars, and sometimes heated discussions abut things like style, form, voice, perspective, language… Students meet, interact and retreat for the solitary task that is composition.
Having been so very ill for so long this spring, having lost so much time, I feel as if I am playing "catch up" with where I ought to be. But this is a personal as well as a professional quest, so it will be done — when it is done. By removing that psychological pressure, that constricting parameter called "must," I free myself to work, and work well. In my own stride.
It's not to say that pressure does not have value; it does. It is a framework and guideline and sometimes a deadline. It keeps me on track. My train is just running a tad slow.
The beauty of this program is within its timeframe and requirements it acknowledges the need for respite, the extence of fatigue, and space for "think" time and "me" time.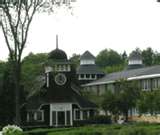 With an advisors eye looking over my shoulder, the semester's reading is determined, the schedule of writing is established, and the requirements yet to be fulfilled are spelled out. Submitted. Awaiting approval.
I walk back to my dorm, past the Clockhouse and the bank of Peonies, up the stairs to a room with a view, click on my fan to bring that rain-dampened air and the scent of peonies inside. I begin the semester's work.
There are five more days to go, days that mix business with pleasure, work with camaraderie. Then I will be On the Road In America again, taking roads less traveled in the company of friends.