Not too far from Knoxville in Campbell County, TN there used to be a mountain (pictured at left). If you'll keep reading, you'll see what it has become. It is incredible to me that strip mining was bad enough to be outlawed in the 1970's and yet mountain top removal mining, which is much worse environmentally, is still legal in 2008 (well, sort of legal, if you don't count filling the streams with dirt, killing fish and wildlife, and leaving these huge slurry ponds of toxic sludge, which is technically against the Tennessee clean water laws). On July 20, 2008 at 1p.m. there will be a March on the former Zeb Mountain to protest further mountain top removal (MTR) mining in Tennessee.
I've written Governor Bredesen and my other TN representatives opposing MTR. I'm proud to say that our Clarksville Senator, Rosalind Kurita, was ranked as one of the top three Tennessee senators for her voting record on protecting the environment. If you'd like to know how other Tennessee legislators voted on environmental issues in 2008 see http://www.tnconservationvoters.org/.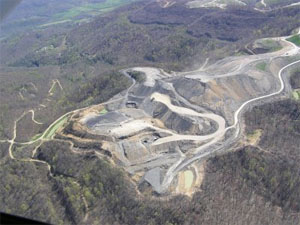 I first heard about MTR around 6 years ago from Dr. Joe Schiller, a Biology professor at APSU. He's been educating people about this horrific practice and battling against it for many years. I've seen video and pictures of MTR but this will be the 1st time I'll actually see this destruction in person. I'm a member of Save Our Cumberland Mountains (SOCM) and other organizations which oppose MTR.
United Mountain Defense, Mountain Justice and Three Rivers Earth First! ask you to march with us for Appalachia. This is a call from the Mountains of Tennessee to those who understand the value of a living forest, clean water and a place to call home. This is a call for you to take a Sunday out of your life to help preserve some of the oldest mountains on Earth.
National Coal is blowing up the three peaks of Zeb Mountain for the coal beneath even though there are other methods of mining that are less destructive and at the same time create more jobs for local residents. National Coal has a terrible record of over 50 violations on Zeb Mountain – including illegally mining through two streams. National Coal has wrecked the watershed of Zeb Mountain – and the New River Watershed is next if we don 't stop them. There's a story on Channel 5's web site detailing some of these issues.
Email unitedmountaindefense@yahoo.comor call (865) 689-2778 for more information. If you'd like to carpool with some other Clarksvillians, contact me at beth_faith@hotmail.com.