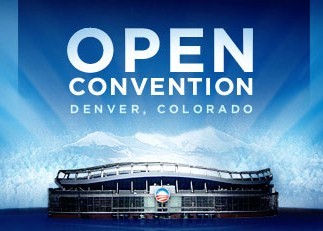 In an unprecedented move, Democratic candidate for President of the United States Barack Obama at the Democratic National Convention next month will continue to open up the political process to the people in the same way he has opened it up throughout this campaign.
On Thursday, August 28th, he is scheduled to formally accept the Democratic nomination in a speech at the convention hall in front of the assembled delegates. Instead, Barack will leave the convention hall and join more than 75,000 people for a huge, free, open-air event where he will deliver his acceptance speech to the American people.
Barack has made it clear that this is your convention, not his. The party decided to hold the final evening's televised events, including Obama's nomination acceptance speech, at INVESCO Field at Mile High, the 76,125-seat stadium that is home to the Denver Broncos football team.The additional space enables the party to open the event to a broader audience. Attendance at nominating conventions in generally limited to delegates, elected officials and volunteers.
"This change in the convention program will allow thousands of first-time participants a chance to take part. I can't think of a better convention finale for our nominee, who has made reaching out to voters a hallmark of his campaign." ~~ Convention Co-chair Kathleen Sebelius, the Governor of Kansas
Barack Obama, hoping to inject new energy into the Democratic convention, will break with tradition and deliver his first speech as the party's presidential nominee before an audience of 75,000 people in Denver. Obama's speech on August 28 will be on the 45th anniversary of Martin Luther King's historic "I Have a Dream" address in Washington.
Obama is known for drawing huge crowds to many of his speeches. In May, a record 75,000 jammed into a riverside park in Portland, Ore., to hear him speak shortly before that state's primary. Delegates from the Clarksville-Montgomery County Democratic Party will be on hand to view the history making event.