More details are emerging on the tragic death of three-month-old Faith Nichols, an infant left unattended in a car at Dodge's Store and The Yes Deer Bar on Fort Campbell Boulevard. Courtni Lee Nichols, 24, of 3060 Harris Circle, Palmyra, has been booked into Montgomery County Jail where she is being held without bond on first degree murder charges for negligence that led to the death of her child on Tuesday.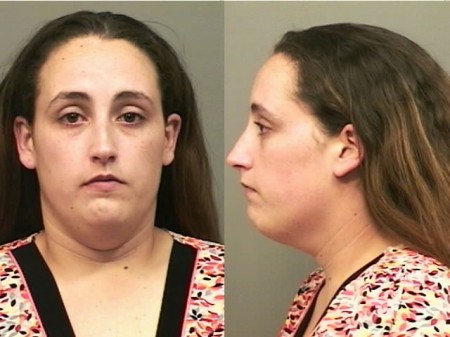 According to police reports, Nichols (pictured at right) left the child in the back seat of her car, which was parked outside Dodge's Store shortly after 10 a.m.. Nichols reportedly went in and out of the Yes Deer Bar several times and went to another bar with friends, leaving her child alone in the vehicle. Six hours later EMS and police responding to a 911 call found the baby "unresponsive," rushed the child to Gateway Medical Center, where the infant was pronounced dead, according the arrest report written by Detective Tim Anderson. The child's temperature was 103.8 degrees. Courtni Nichols admitted leaving her baby in the car, which was not running or air-conditioned, while she went bar-hopping.
According to state law, a murder charge may be applied in the case of a death committed in the context of "aggravated child abuse or neglect."
It is against state law (Class B misdemeanor) to leave a child under age seven alone in a vehicle without another person at least thirteen years of age to supervise, or if the vehicle is running or the keys are inside the car. To leave a child unattended in a car can result in child abuse/neglect charges for any child under the age of 18. Nichols' prior record includes pending charges including driving under the influence, multiple charges of driving after her license was revoked, driving an uninsured vehicle, and additional traffic charges.