The AAU 14U Girls National Basketball Championship will be hosted in Clarksville on July 21-27. This event will bring over 1,000 basketball players to the community for a total economic impact of over $1 million, according to the Economic Development Council.
This year during AAU, the Convention and Visitors Bureau will also host a college referees' camp that will take place simultaneously. This event will help officials qualify to referee at the NCAA level.
The Council urges sports enthusiasts to make plans to attend a basketball game during this week-long event. Games will be held at APSU Dunn Center, Kenwood Middle School, Kenwood, Northeast, Northwest, Rossview, and Clarksville High Schools starting at 9:00 a.m. and ending at 4:30 p.m. July 22-24. Championship and consolation bracket play will take place July 25-27 at selected gym sites.
On the Road in America is an occasional column born of occasional travel. Every trip is a new experience or a meeting with other friends. This is a look into one small facet of my current journey.
A country wedding. Low key, informal. Good friends and neighbors invited. Held at home with sprawling lawns edged with Green Mountain forest and a wonderful view.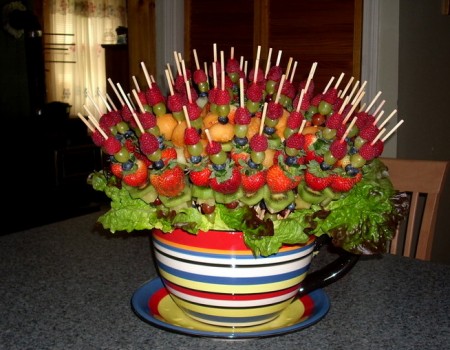 Though my friend Robin has known the bride, Nettie, for a lifetime, I met Nettie as a undergraduate at Goddard College in the 1990s. She's the kind of woman whose beauty is not just external but radiates from within; her spirit is radiant, warm, loving. The kind of person everyone should have for a friend. We all wanted her wedding to be special.
So, even as we faced the challenge and choices of what to bring to this pot luck country wedding, Robin spotted a TV ad for a bouquet of fresh fruits. Clever. Cute. Little sculpted flowers and such.
"We can do that," Robin said.
"Of course we can," I echoed. «Read the rest of this article»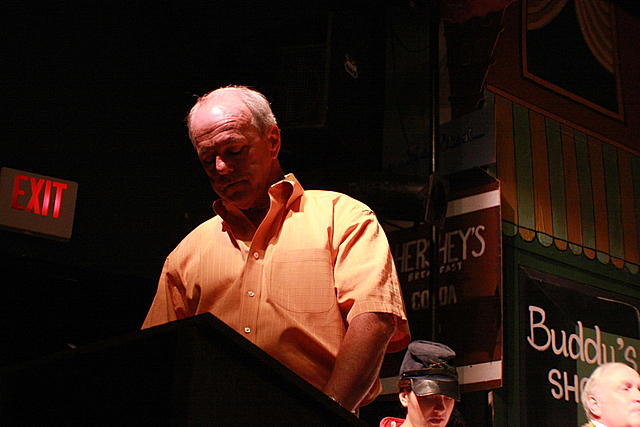 The second event of the 4th annual Clarksville's Writers Conference was a play at the Roxy Regional Theater. Headin' South Goin' North written by John McDonald mixes local historical sites and personages into a fictional story to give an engaging account of the Civil War era.
The story is of Charlie Lurton, a Clarksville boy.  The play follows Charlie (Brad Vile) and his companion Peter (Humberto Figueroa) through their escape from a Union prison camp, to their fate when they arrive back home. The story also follows Mrs. Lurton (Jill Whittinghill) as she makes her way to secure authorization for the release of another son, Horace (Joe Sonenshein) who was suffering from tuberculous. «Read the rest of this article»