Fourth annual writers conference opens with exciting author from the Fairhope Center for the Writing Arts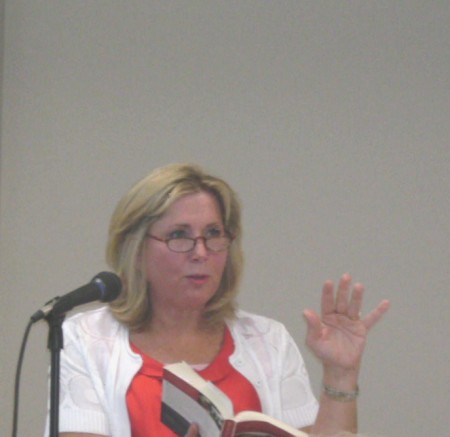 July 11th was the first day of presentations at the 2008 Clarksville Writers Conference. With registration completed and name tags attached, attendees moved onto their choices of the various author presentations of the morning. Karen Spears Zacharias, current author-in-residence for the Fairhope Center for the Writing Arts, in Fairhope, Alabama, proved a most intriguing introduction to the conference. She told of not starting her own writing career until age 40 as a way of allaying the fear that anyone is too old to become a writer. Karen titled her presentation after her book, "Mama, Mayhem and Memories." A breakdown of the primary elements showed her admiration for her mother as she struggled to sustain her family, the mayhem that struggle incorporated and the memories that grew out of their collective struggles.
Having been reared in a military family setting for the first half of her young life, she chronicles the upheaval that followed her father's death as the family struggles to adjust to this new reality. Everything from having to vacate on-post housing to the sudden lack of structure and support the family faced when they could no longer utilize the military family support system.
 The family underwent anger, depression, rebellion, resentment and more as they had to process their grief along with the cruel realities of unexpectedly living life as civilians. Every family member underwent some form of chaos and mayhem. Her mother bore the greatest burden. She had to contend with life as the breadwinner and as a newly single woman whose only work experience had been as a military spouse, a homemaker. She was a single mother with children, chief among them a son angry at not having his father as a mentor just as he approached his formative teenage years. Her efforts to keep her family intact, physically and psychologically, and lead a life are primary to the story. Ms Zacharias relates how her family learned extended family cannot always be counted on to lend support, more specifically, positive support, to a struggling family.
Her book, 'After the Flag Has Been Folded,' also details the chaos and turmoil her family endured as a result of her father's dying in Vietnam. But more emphasis is given to her desire to resolve some mysteries surrounding the circumstances of her father's death. A part of the need to write her book grew out of her struggle to get at the true circumstances of her father's death.
Aspects of her father's death had always troubled her and the book details her own quest to learn the true circumstances of her father's death. As a grown woman she began to research his death and sought the official records. This led her into the murky world of Army bureaucracy and official denial. She would encounter, not a dark conspiracy, but rather the fragile and shaky structures humans will contrive to deal with a truth that is sometimes too awful to acknowledge in its naked form.
The desire to write, to tell a story, will influence the style and tone of the writing that follows. Making the time to write is more accurately described as taking time back to get the writing done. In writing a family memoir, the writer will likely come to realize that his or her recollections will differ vastly from other family members. Some family members will not want certain details revealed or even the story itself shared. All of these things are impediments to be encountered along the way in writing a story that compels one to 'get it out!'
Ms Zacharias is an earthy, honest wordsmith. She is not afraid to express life on a realistic level. She is a prime example that where one starts out in life is no predictor of when you may end up. Life is not always sweet and pretty. In fact, it is often those 'untidy bits' that give life its real zest and flavor. The human story is ever enriched when chaos and mayhem rear their untimely and ugly heads. It's not the arrival at one's destination, but rather the journey one must take to get there that marks the travel as memorable.
Ms Zacharias' works include, 'Mama, Mayhem and Memories', 'After the Flag Has Been Folded,' and the forthcoming 'Where's Your Jesus Now?' Check local bookstores for her work. Visit her online at http://www.heromama.org/.