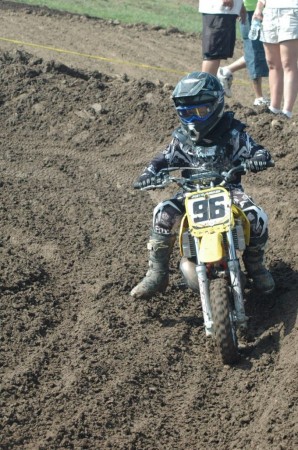 Hurricane Mills, TN- Justin Barkey just made his dream come true. The 6-year-old dirt bike racer has qualified for the largest amateur motocross race in the world, the 27th annual Air Nautiques/AMA Amateur National Motocross Championships at Loretta Lynn's Ranch. Justin took on over 20,000 hopefuls from across America to earn one of just 1386 qualifying positions.
"The Amateur Nationals at Loretta Lynn's is the event every motocross racer in the country wants to compete in," says Event Director Tim Cotter. "A win at the Amateur Nationals can serve as a springboard to a lucrative professional motocross career."
Most of America's top professional motocrossers, including James Stewart, Ricky Carmichael, Travis Pastrana and Jeremy McGrath have won AMA Amateur National Championships at Loretta Lynn's. The race is so prestigious that last year, three teenaged stars, Elk City, Oklahoma's Trey Canard, Saint Clair, Michigan's Nico Izzi, and Lincolnton, North  Carolina's Austin Stroupe, were awarded six-figure pro contracts after the race.
Justin, who attends Kenwood Elementary School, has been riding since he was 3 ½ years old, but didn't start competing until last year. His dad and mom pay his way to the races, but they hope to get some sponsors after this season. He won his class in the North Central Youth Regional at MC Motopark last month and competes nearly every weekend in Kentucky.
Justin will make the journey to Hurricane Mills along with his family. The race runs July 28th through August 2nd.
Justin is just one of the over 20,000 who spent the last four months qualifying for the event. The top finishers in area and regional qualifiers earn a birth into the national championship race at Loretta Lynn's. Racers may enter a wide variety of classes, from minicycle classes for children as young as four, all the way up to a Senior division for riders over 45. There are also classes for women, and classes for both stock and modified bikes.
The track is built on a section of Loretta Lynn's Ranch and Campground in Hurricane Mills, Tennessee. The course contains a variety of jumps, corners and other obstacles designed to test the skills and stamina of the racers.
Most riders attend the event with the help of their families. In fact, many groups consider the event their family's summer vacation. Besides races, the ranch provides family-friendly facilities including a game room, swimming pools, arts and crafts activities, and a fashion and talent show.