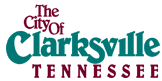 The Summer Youth Program 2008 ended with a bang on Friday, July 18th at Burt Cobb Community Center.  Parents enjoyed a program that included karate and dance demonstrations and games and prizes.  Appreciation awards were handed out to program sites from Summer Lunch Supervisor, Cathy Perrone.  Over all attendance for the entire 6 week program was 20,206 youths.
The Parks After Dark Series will be featuring the admission free Movies in the Park on Saturday, July 26th at Heritage Park.  The Kid's Activities will begin at 6 p.m. with the movie starting at dusk around 8:30 p.m.  The movie is about three children who move into Spiderwick Estates with their mother and are pulled into a world of faeries and other creatures. «Read the rest of this article»
This author at the Clarksville Writer's Conference put a high powered jolt into our coffee. When she was done speaking my hand went up in the air. 'How do you get away with this? ' was all I could muster. Having had countless discussions about what is right and wrong about war according to the Bible, I lack in the background needed to truly make a stand for the message of Jesus. I have never been a Baptist and I am not a child of a Vet killed in war. Several people talked to Karen after her talk saying they are deeply religious as she is, but also opposed to fear based hate.
Karen Spears Zacharias: Author of Revelation from a Potty Mouth Believer and Where is Your Jesus Now
Where is Your Jesus Now is taken from the crime story about a grandma being taken hostage by her son. Tied up to a chair with a gun pointed at grandma's head he said to her, Where is your Jesus now? She looked him in the eyes and said calmly, He's right here. Karen said that in the midst of all that danger, threatened with death, she answered with love and faith, not fear. «Read the rest of this article»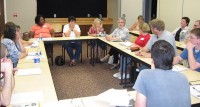 Writer Debbie Boen offers Clarksville Online readers a view of the participating authors in the recent Clarksville Writers Conference at APSU. Each author discusses the work, the ideas and influences of their writing, and suggestions for aspiring writers.
Barry Kitterman: Editor, playwright, professor of literature and author of The Baker's Boy
Always exposing Clarksville to creative writing through his classes at APSU and the visiting writers series is Barry Kitterman. He told us the background of and read a passage in his book, The Baker's Boy. It is a story set in Belize where we explore the world of a school teacher Tanner Johnson, who is in the Peace Corp. Taking the first steps into the school Tanner saw two boys fighting and it wasn't even breakfast yet. He sees a boy disciplined by being beaten with a rope. The 15 boys in his class are wild birds suddenly in a cage when they are indoors. Out doors they re-energized as if fingers were in sockets. Tanner is a man who is painfully aware of his personal limitations and who, in present time, is incapable of being very responsible because of the doubt in himself. This is his story of how the past follows him. «Read the rest of this article»