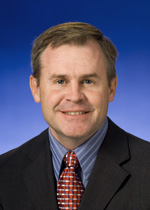 NASHVILLE – Representative Bill Dunn (R-Knoxville), having successfully passed a bill that harnesses technology for the purpose of opening the government process to the public, demonstrated the technology this week. Dunn said he was looking to solve some of the problems associated with the recent dust-up over the Sunshine Law in Knoxville. He says he believes that with technology expanding the way people communicate, using this technology could solve some of the problems with the Open Meetings Act.
"With the technology available today, we need to update the Open Meetings Act. We need to make it easier for officials to conduct business, while balancing the public's right to know. I'm pleased the legislature was willing to give it a try, and hopefully today will be the dawn of a new era." — Rep. Bill Dunn
Dunn's bill allows elected bodies to set up websites where they can instant message one another.
 The conversations are available for the public and the media's viewing, with the Knox County Commission's accessible from their website,
www.knoxcounty.org
. Dunn says this method of letting the sunshine in is even more beneficial to the public since the average citizen often has difficulty attending called meetings.
"Two elected officials can carry on a conversation at their convenience and at the spur of the moment if needed, knowing that the public will have full access to their discussion. Our main goal is to not burden one party or the other, but make it easier for all parties involved." — Rep. Bill Dunn
Dunn said the demonstration was very successful, and he looks forward to seeing the tool used often. Knox County's is already up and running as of today. Citizens can view it by going to www.knoxcounty.org and clicking 'Commission Forum' on the right-hand side.
The issue gained widespread attention after Knoxville News-Sentinel editor Jack McElroy filed a lawsuit against the Knox County Commission for violation of the Open Meetings Act.
Representative Bill Dunn demonstrates how to use the "chat room" commissioners can use in their correspondence that will enable the public to view their discussions.