In the cyber shorthand of my grandchildren, OMG!!!
That was my first reaction to Mama Mia, the new pop music turned Broadway hit turned silver screen mega … something??? The OMG does not necessarily denote pleasure.
Mama Mia is a musical rooted in the Abba top-forty playlists of a few decades ago. And yes, the music was toe tapping and hummable, huge hits for the group. In Mama Mia, the music dominates the show; it's the lynchpin upon which to hang a lightweight story that reaches for words like "rollicking" and "sentimental" and "exuberant" but never makes the real connection. Or rather, it makes it from time to time but doesn't let you pause to enjoy it. The music goes beyond domination, rolling into subjugation, rather like a steam roller flattening everything in its path. Come on. We need breathing room to separate and tame this relentless tide of song.
Meryl Streep stars as Donna Sheridan, proprietor of Villa Donna in the Greek Islands a woman whose freewheeling lifestyle and rock and roll days resulted in three close encounters with three distinctly different men that produced one child one summer long ago. That child, Sophie [Amanda Seyfried], paternity undetermined, is about to be married, and wants a "daddy" to walk her down the aisle. Having found mom's old diary, she now has a list of unusual suspects to invite to wedding. Thus we are given a good opening and a good opening song: I have A Dream, beautifully sung by Sophie.
Now that your credulity has been terminally stretched, enter the daddies. Pierce Brosnan as as architect Sam Carmichael, suave, widowed, father of two, perennially handsome, tries hard but can't sing a note. He was lover #1, left our heroine and returned, only to learn she was "with someone else" and left again for a new life. Colin firth plays banker Harry bright, rugged, vibrant, concerned, doesn't have to sing much. Thank you. Stellan Skarsgard as Swedish sailor Bill Anderson as , still another great looking guy. Meryl had good taste.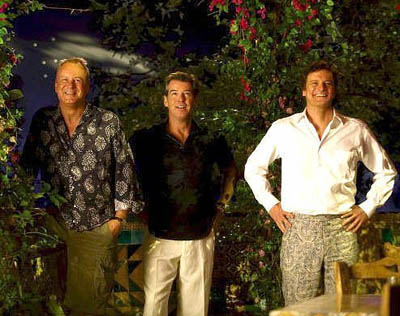 The bridesmaids arrive and rollick on the Grecian beaches with vivacious energy and the appropriate level of pre-nuptial silliness. Donna's best buddies arrive in the form of unmarried author Rosie [Julie Walters] and thrice divorced Tanya [Christine Baranski], resurrecting more memories of their rock roll days as an all-girl band. Hordes of extras in the roles of local color (the Greeks who inhabit this Aegean island) round out the cast.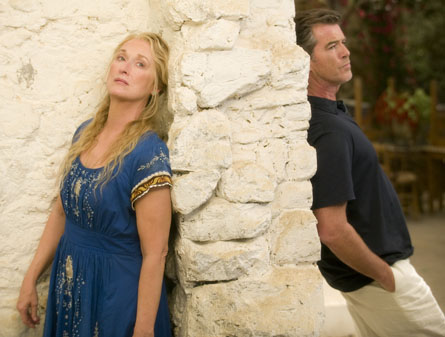 To be honest, Meryl Streep is a great actress with impressive range, a woman unafraid to try anything, including a hefty bounce off a bed while executing a mid-air split. I'd need a personal trainer, a chiropractor, acupuncture and possibly traction after that one. She acts, she does comedy, and she sings. Pretty well, in fact. Her rant [The Winner Takes It All] to Brosnan is a powerhouse number. His version of S.O.S. is not. But he is cute and he tries hard.
The high points reached the top with Streep's show-stopping The Winner Takes It All, which has everything from vocal range to costume and set to keep it afloat. Young Sophie in love sings Honey Honey which segues into a rendition of Money Money Money by mom Sophie and her friends. Clever. We have the requisite Dancing Queen, Our Last Summer, Take A Chance On Me, and the title song, Mama Mia. Read the ABBA Greatest Hits record jacket and that covers the score fairly well.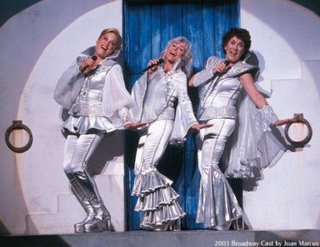 It's not that Mama Mia is a bad film; it has many good moments, one or two great ones. The comedy works but laughing too hard may make you miss a joke. Other moments, like watching Pierce Brosnan sing, can only be described as painful.
There's a frenetic Pied Piper scene with Donna leading the local ladies along a scenic path, and another where young men in swim trunks and flippers dance out of sync (was this "rollicking?") on a pier. In between the key storylines was a mismosh of under-developed or unnecessary subplots. Editing required. The absence of choreography in several numbers is duly noted, or perhaps that frenetic unsynchronized gyrating and jumping was the effect directors were looking for. It felt unfinished, unpolished. Too many subtexts were fleeting, alluded to and left to dangle, or were completely irrelevant.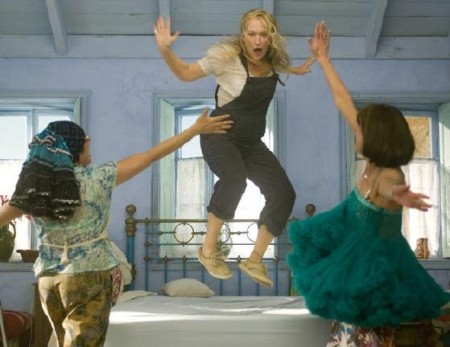 Streep and Seyfried, along with the "dads" and the "old friends" are entertaining. But the film as a whole is a bit of a mess, too riotous, too fragmented, too jumbled, to really work. The audience had a good time with the music, but the pace was overwhelming. Enough already.
Most of the filming was done on location in the Greek Islands of Skopelos and Skiathos, and in the Pelion region of Greece.
ABBA fans may have a good time. I had a good time, some of the time. But it's a guilty pleasure, rooted in the fact the bad parts are so bad you have to love them for simply trying. I would have preferred a little more time to absorb the characters and savor the story.
[youtube]FKx_14vJNZg[/youtube]