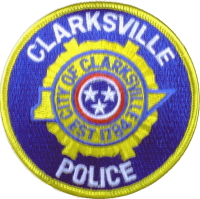 Police have responded to series of unrelated violent crimes over the past week, including two instances involving guns and a third requiring assistance from the Crisis Negotiations Unit and Tactical Unit.
On July 29, at approximately 1:30 am, officers responded to the Raleigh Drive area in response to a burglary. While in the area, officers observed a vehicle that was known to have been previously operated by the suspects. Officers tracked the suspects to another apartment within the complex.
The Crisis Negotiations Unit and Tactical Unit did respond to the scene. After unsuccessful negotiations, the Tactical Unit deployed Clear Out Gas into the apartment. At approximately 8:00 a.m. Michael Benton and Christopher Williams were taken into custody without incident. The items taken from the original burglary call were located inside the apartment where the suspects were hiding. The Clarksville Police Department was assisted by Montgomery County Sheriff's Dept., Clarksville Fire Rescue and Montgomery County EMS.
The prior burglary occurred on Saturday, July 26, when at approximately 11:30 a.m. officers responded to Dupuis Drive after receiving a report of a robbery. Two males in a light gray Chevy Impala approached the victim. One subject was armed with a handgun and did fire a shot into the air. The other subject went through the victims pockets and took his wallet.
Michael Benton, 22, last known address 900 Ryan Drive and Christopher Williams, 24, last known address 403 Julie Drive remain in custody.
On July 23, at approximately 9:00 pm, the victim stated that he met a subject at Governor Square Mall and negotiated a drug deal. When the victim pulled out his money, the suspect pulled out a weapon and demanded the victim's money. The victim was shot in the ankle.
The Clarksville Police Department is attempting to locate Quentin James Roman, 27, whose last known Clarksville address 1436 McLardy Road, and last known Nashville address was 383 Village Green Drive, Nashville.Roman is described as a male of unknown race, 6'2″ tall, 175 pounds, brown hair slicked back into a ponytail, brown eyes,has a tattoo across the front of his throat. He was last seen driving a 1995 lime green fur doorNissan Maxima with Tennessee tag 546-QZL. Roman has an active warrant on file for Especially aggravated robbery.

If anyone knows the location of this subject or has any other information about the case, please contact Detective Lane at 931-648-0656 ext. 3011 or the Tips line at 645-TIPS (645-8477).