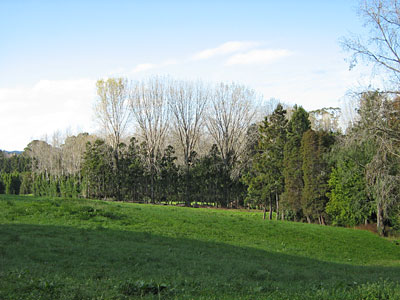 Mayor Johnny Piper announced Thursday at the City Council Executive Session that a donation of land by the Pressler family has been offered and accepted by the city. The land amounts to almost 94 acres and adjoins almost 17 acres of land already owned by the city. The land has considerable frontage on North Ford Street and is located off Peachers Mill Road just a few miles from New Providence Boulevard.
According to Councilor Bill Summers, "this land fits right in where the rails to trails effort has been needed" and adds another piece to help fill gaps from the River Walk, through Fort Defiance, toward Kenwood High and the new pedestrian overpass, along the Red River toward the West Creek school complex and Tiny Town Road. The land is a mixture of pasture and woodlands. The land had a 2003 appraised value of almost $171,000.
This parcel of land was first mentioned several months ago when the city agreed to fund the $1.2 million dollar purchase of six acres of riverfront land adjacent to the existing Riverfront Park. At that time in a City Council meeting, Mayor Piper referred to the land donation as being linked or connected to the purchase of the waterfront acreage. The donation of land was not discussed when the Council voted to purchase the six acre parcel.
Summers said: "I have few doubts that the land is worth much more today due to the development explosion and road expansion of the 101st and Peachers Mill in the past couple of years. We are very thankful to the Pressler family for this donation to our city."