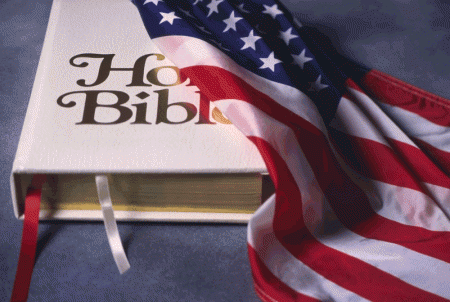 Prayer is a religious ritual that over 70% of Americans practice daily. Sometimes we express praise; other times we offer up petitions and requests to our Lord. This ritual is an element of every faith in the world.
Today's thoughts on prayer concentrates on the issue of prayer in public schools, specifically in Florida, and how one organization is moving to remind school officials of how the United States Constitution applies to Florida — and to every state in the Union.
AU challenges school-sponsored prayer in Florida
Attorneys with Americans United have advised a Florida Public School to stop allowing a principal and other staffers to pray with students.
AU, after receiving complaints from community residents, asserts that Principal Mike Rio and several teachers were filmed on videotape praying with students on May 3, 2007, during a National Day of Prayer observance at Virgil Mills Elementary School in Bradenton. AU sent its letter on April 29 so there would be no recurrence of teacher-led prayer during this year's National Day of Prayer, which was May 1.
"Government neutrality in matters of religion is particularly important in the context of public schools because students are legally required to attend – and are thus a captive audience – and because schoolchildren are considerably more impressionable than adults. " AU's letter asserts. "In accordance with these principles, the courts have held that school officials, teachers, and employees are not permitted to lead, participate in, or promote prayer with students."
John Bowen, attorney for the school board , insisted nothing illegal is going on.
"I've talked to the principal, the assistant principal, and the school secretary, and a lot of information is erroneous," Bowen told the Bradenton Herald. "To say the prayer meetings occur periodically throughout the school year is not true."
AU asserts the tape clearly shows Rio participating in prayer and also pointed out that the prayer event was announced over the school's public address system. (Reprinted with permission from AU)

This true story illustrates points that merit our thoughtfulness.
AU is in favor of prayer under the right circumstances. Their objection to mandatory time is in keeping with the teachings of Jesus.
Prayer over the PA system likely will violate other students concept of God. Even among protestant churches there are theological differences. Is a prayer in public assembly or a set time over a PA system Baptist, Methodist, or Mormon (or other) in content?
No matter how religiously dedicated the teachers or administration are, school isn't the place for evangelizing.
The courts are always available to resolve such conflicts.
It is appropriate to speak out when our public schools violate neutrality on religious matters. It takes boldness to do so.
Last year I received word that a Christian drama group was to perform at one of our public high schools. This would be a violation of school policy and common sense if such an assembly was made mandatory or conducted during regular school hours. As to the content, such performances are acceptable if only values but not religious doctrine are presented.
Our educational leaders need our support and sometimes our guidance on meeting the needs of our students.
Yes we can "pray without ceasing." In high school, I prayed often. I reserved Friday noon as the time for prayer and fasting in the privacy of the school stairwell. Private prayer in public schools isn't prohibited, but it is to be done respectfully without infringing on the rights of other students.